This dish includes lightly sautéed sugar snap peas and asparagus that tops easy-to-make lemony whipped ricotta. A hint of red pepper flakes gives this recipe a little heat.
From Garden to Kitchen
Do you love springtime as much as I do? I get very antsy at the end of the winter, not only wanting warmer weather, but to plant vegetables and herbs in my backyard. I love eating and cooking with homegrown food! This year I decided to plant some vegetables best grown in cooler weather, such as peas and broccoli, allowing me to enjoy the garden a little earlier. However, living in Kentucky means unpredictable seasons. Most avoid gardening until almost mid-May because there always seems to be a late frost or snow that sneaks into the forecast.
Taking the gamble and working around being 7 months pregnant, I sowed some seeds during late March and early April. And then what happened? SNOW! We had record-setting snowfall and temps in April. My tender sugar snap peas survived, though. I covered them as needed on freezing nights, and now I am enjoying the fruits of my labor. The pea pods continue to be plentiful, even as we approach June. I even used them to create this delicious recipe!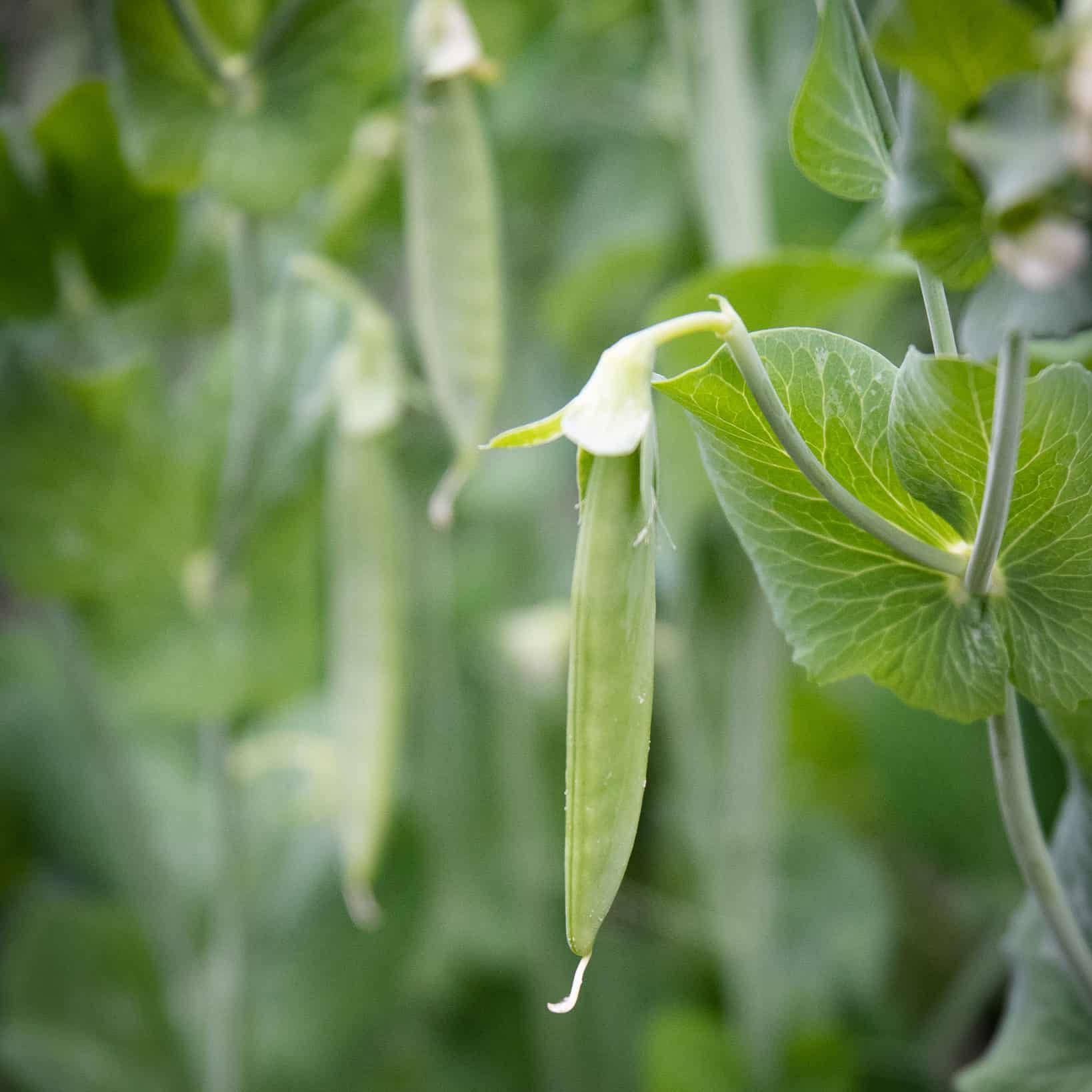 Mise En Place
1 cup of Whole Milk Ricotta
Extra Virgin Olive Oil
1 Lemon – Zested and juiced
Unsalted butter
2 cups of Sugar Snap Peas – fresh
1 cup of Asparagus – fresh, cut into 1 or 1 1/2 inch pieces
1 Shallot – peeled and diced
Pinch of Red Pepper Flakes
Salt and Pepper (to taste)
How to Make This Dish
You'll want to start by making the whipped ricotta: Using a mixer with a whisk attachment, blend together ricotta, olive oil, lemon zest and lemon juice at a high speed for several minutes. Add salt to your preference and spread equal amounts of the whipped ricotta into your serving dishes.
Next, sauté the vegetables: Start by heating together equal parts of unsalted butter and olive oil in a pan. Once the butter is melted in the olive oil, add the peas, asparagus, shallot, and red pepper flakes to the pan. Stirring frequently, sauté the vegetables until they have softened lightly and turn off the heat.
Season vegetables to taste with salt and pepper. Stir in lemon zest and the juice from half of a lemon.
Finish plating by spooning even amounts of the cooked vegetable mix on top of the whipped ricotta. Serve warm and enjoy!
All in All
I am grateful to enjoy gardening and use my homegrown vegetables to make nourishing dishes such as this one. Growing as a gardener and home cook is essential to me. I hope you enjoy this refreshing dish as much as I do!
If you're a gardener, what are you growing this year?
Other recipes you'll enjoy: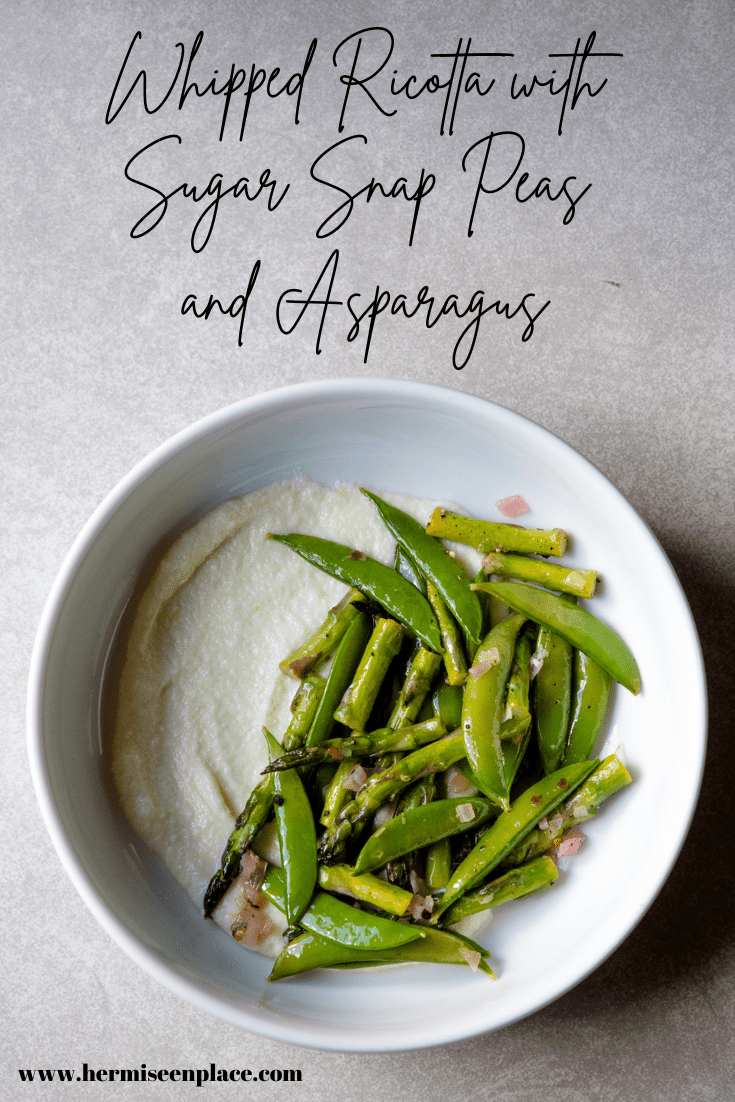 Whipped Ricotta with Sugar Snap Peas and Asparagus
Ingredients
Whipped Ricotta
1

cup

Whole Milk Ricotta

1

Tbsp

Olive Oil

extra virgin

1/2

tsp

Lemon Zest

Juice of half a lemon

salt and pepper (to taste)
Sauteed Vegetables
1/2

Tbsp

Unsalted butter

1/2

Tbsp

Olive oil

extra virgin

2

cups

Sugar Snap Peas

fresh

1

cup

Asparagus

fresh, cut into 1 or 1 1/2 inch pieces

1

Shallot

diced

1/8

tsp

Red Pepper Flakes

1/2

tsp

Lemon zest

Juice of half a lemon

sea salt (to taste)
Instructions
Make Whipped Ricotta
In a mixing bowl, add the ricotta, olive oil, lemon zest, lemon juice and season lightly with salt.

Using a mixer with a whisk attachment, whip the ricotta ingredients at a high speed for 1-2 minutes until blended.

Add additional salt if desired.

Divide ricotta mixture into serving bowls or plates.
Cook Vegetables
In a sauté pan, melt together butter and olive oil over medium-high heat.

Add in diced shallot, peas, asparagus, red pepper flakes and lightly sauté for about 3-4 minutes, stirring frequently. Season with salt and pepper to your preference. When vegetable are lightly softened, turn off heat. Stir in lemon zest and lemon juice.

Spoon desired amount of vegetables over the plated whipped ricotta and serve warm.