Jump to Recipe
Duck fat can take roasted potatoes to a whole new level! In addition to the rich duck flavor, this recipe includes fresh herbs and simple seasonings. This post is an excellent recipe if you are looking to elevate a classic side dish.
While shopping at a local meat store, I stumbled across duck fat in the freezer section. Traditionally, I've stored rendered duck fat in the fridge after cooking duck, knowing that I can use the fat for other dishes within the week- but that's a rare occasion, to be honest.
I was also amazed by the fact the cost was so low. Being able to buy duck fat already prepped, strained, and stored at $5-6 is beyond convenient. It's pretty much going to be a "regular" found in my fridge and freezer from now on! I suggest seeing if your local market carries rendered duck fat, or try making it on your own.
Mise En Place
Golden Petite Potatoes- Halved, parboiled and drained
Salt and Pepper
Rendered Duck Fat- melted but not hot
2 cloves of Garlic- minced
Chopped fresh herbs: Rosemary and Thyme
How to Make Duck Fat Roasted Potatoes
Cut each of your potatoes in half and parboil (or partially cook) them until a fork can easy be inserted. This will make roasting them go quicker and give you a crispy outcome with burning them.
Let potatoes drain and cool slightly for 5 minutes. In a large bowl, gently toss the potatoes in the melted duck fat, salt, pepper, minced garlic and chopped herbs.
Transfer to a baking sheet and spread out potatoes in a single layer. Bake in a preheated 400 degree oven for 20-25 minutes or until they reach your desired crispness.
Serve your potatoes warm with your favorite entrée.
Tips for making potatoes:
To save on dirty dishes and water, you can "parboil" your potatoes in the microwave. After cutting the potatoes, I placed them in a microwave safe dish and cooked them for about 5 minutes until they were partially cooked.
Use your favorite potatoes for this! I like the petite gold potatoes, but you could use your favorite type of new potatoes or a mix of colors.
If your duck fat has solidified, you'll need to melt it back down. I do this by warming it slowly in a small sauce pan on the stove.
You can parboil your potatoes a day ahead to save even more time on the day of an event.
All in All
Duck fat roasted potatoes are flavorful and a simple way to elevate traditional roasted potatoes. I suggest serving the potatoes alongside any of your favorite entrees. What will you serve these with? Let us know in the comments!
Other Side Dishes you'll enjoy on Her Mise En Place: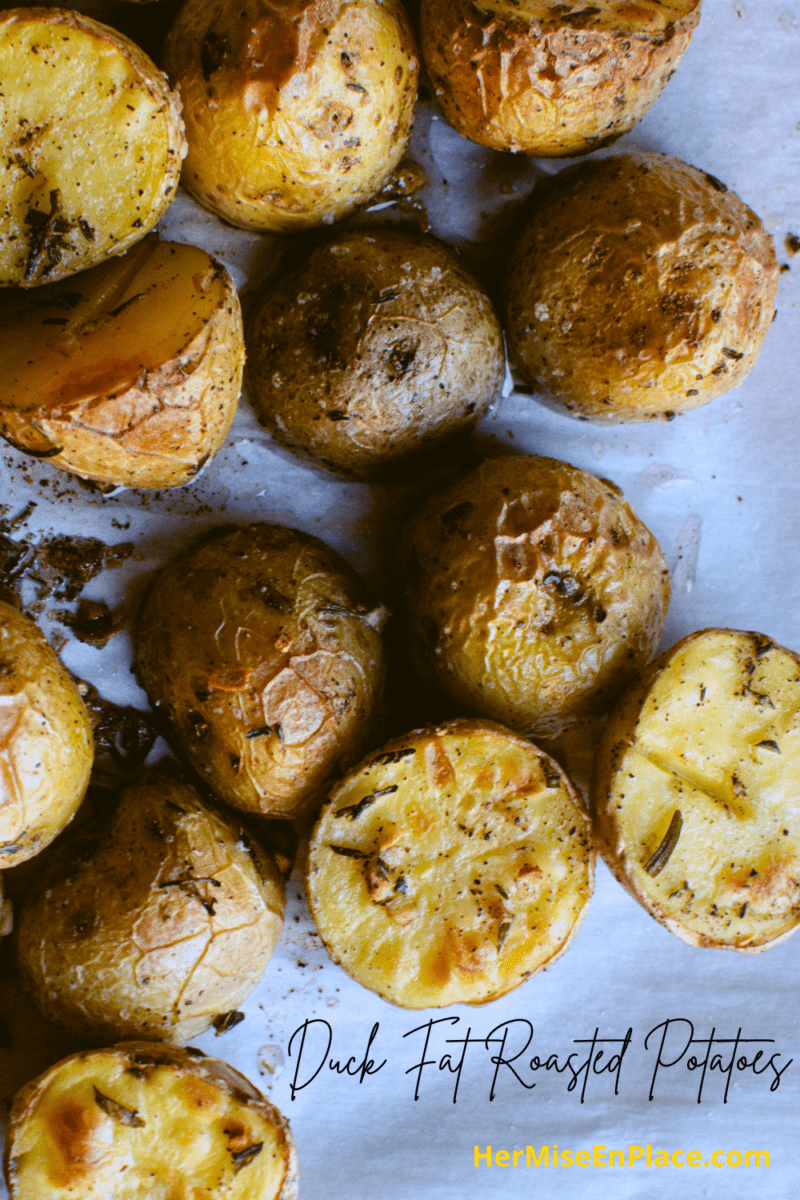 Duck Fat Roasted Potatoes
Ingredients
1

lb

golden petite potatoes

cut in half

1 1/2 – 2

Tablespoons

duck fat

melted

1/2

tsp

salt

1/4

tsp

black pepper

2

cloves

garlic

minced

3

sprigs

thyme

stems removed, roughly chopped

1 – 2

sprigs

rosemary

stems removed, roughly chopped
Instructions
Preheat oven to 400 degrees F.

"Parboil" cut potatoes in the microwave: Place cut potatoes in a microwave safe dish and cook in microwave for 5-6 minutes until a fork can be easily inserted. Let potatoes cool for about 5 minutes.

Transfer potatoes into a large mixing bowl. Add duck fat, salt, pepper, garlic and herbs to the potatoes and gently stir together until potatoes are evenly coated.

On a baking sheet, spread the seasoned potatoes out in a single layer.

Bake the potatoes for 20-30 minutes until crispy and cooked through.
Notes
To parboil your potatoes the traditional way- Boil potatoes in a large pot of water until fork tender, drain and let rest for 10 minutes. Be sure to remove as much water as possible before tossing in fat to ensure they turn out crispy in the oven.