This carrot and parsnip soup is creamy, tasty and perfect for welcoming in the fall season. The root vegetables are simply sautéed and then simmered in broth. Flavors from turmeric, ginger and fresh herbs give this soup an earthy aroma.
As many know, I love to garden! This year gardening has felt extra healing given the pandemic and additional time I have spent working from home. Throughout the spring and summer I found myself taking "gardening breaks" from all the virtual meetings, extensive emails and phone calls. I'd step outside, even for just 5 minutes, to tend to my vegetable and flower beds.
Besides getting fresh air, I appreciate the opportunity to grow food for my family. Having fresh produce in the backyard has been favorable and I tried growing a variety of vegetables this year. For example, I grew the carrots and herbs that I used here in this Carrot and Parsnip Soup. The parsnips are organic from the grocery. I am definitely going to add parsnips to my garden next spring.
Bouquet Garni
One culinary technique I implemented in this recipe was the use of a "bouquet garni" to help flavor the soup.
What is a bouquet garni? It is a bundle of fresh herbs. The tied together herbs are immersed into dishes like soups, stews and sauces. The flavors from the herbs steep into these dishes as they cook and the bundle is simply removed once the flavors dispel.
I used twine to keep my herbs wrapped together. My bouquet garni included fresh parsley, thyme, and tarragon.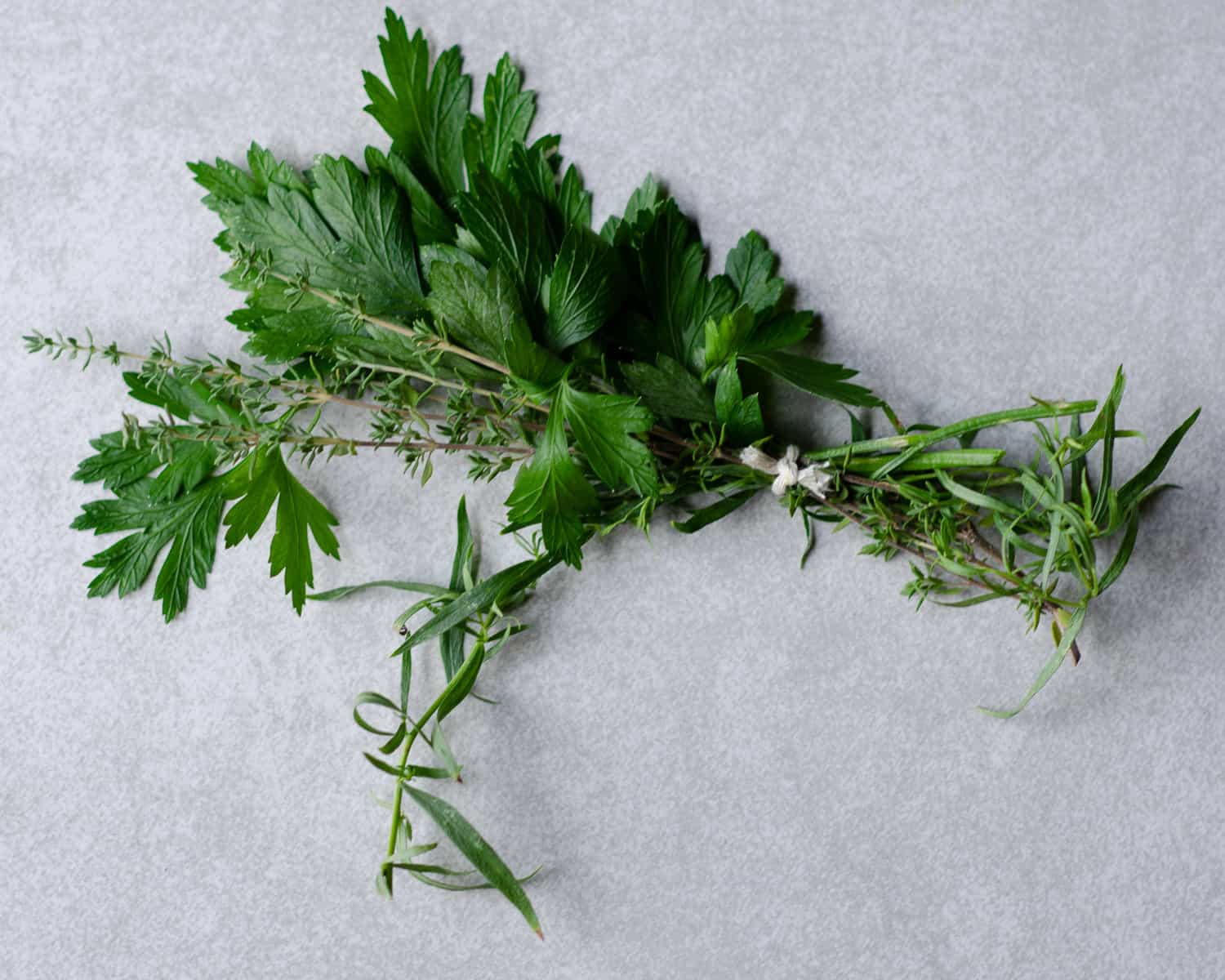 Mise En Place
Here's what to prep for my Carrot and Parsnip Soup.
Carrots – peeled and diced
Parsnips- peeled and diced
Onion – peeled and chopped
Bouquet Garni of fresh herbs: Tarragon, Parsley, and Thyme
Butter
Olive Oil
Ground Turmeric
Ground Ginger
Dried Bay Leaf
Garlic Powder
Vegetable Broth
Milk
Salt and Pepper
Garnish: Pepitas and chopped parsley
How to Make Carrot and Parsnip Soup
In a large pot or Dutch oven, sauté the diced carrots, parsnips and onions for about 10 minutes. Season with salt and pepper. Note: You'll want to stir the vegetables frequently to prevent them from browning.
Lower the heat and pour in the liquids. Next, gently stir in the spices, bay leaf, and the bouquet garni.
Let the soup simmer for 30-40 minutes until the vegetables soften and are fork-tender. Once done, discard the bay leaf and herbs.
In batches, puree the soup in a blender or food processor until smooth.
Return soup to pot and stir in milk. Season with additional salt and pepper if needed.
Serve warm and garnish with pepitas and chopped fresh herbs.
All in All
Soup season is officially here. I really enjoy this tasty recipe and hope that you will too. I look forward to making this again and again because it is vibrant, earthy and so simple to make. Happy Fall!
Other fall recipes you'll enjoy:
Carrot and Parsnip Soup
Ingredients
1

pound

Carrots

diced

1

pound

Parsnips

diced

1

medium sized

yellow onion

chopped

3

tablespoons

Unsalted butter

2

tablespoons

Kosher salt

1/2

teaspoon

black pepper

1/2

teaspoon

ground turmeric

1/4

teaspoon

ground ginger

1

Bay Leaf

1/2

teaspoon

garlic powder

4

cups

vegetable broth

3

cups

water

1

bouquet garni of fresh herbs

I used parsley, tarragon, and thyme

2/3

cups

whole milk
Instructions
In a large pot or dutch oven, heat oil and butter over medium heat. Sautee the diced carrots, parsnips and onions for 10 minutes. Stir frequently to prevent browning. Season vegetables lightly with salt and pepper.

Lower heat and add vegetable broth and water to the pot. Stir in garlic powder, turmeric, ground ginger, and bay leaf. Add in the bouquet garni of fresh herbs. Cover and let simmer for at least 30 minutes or until the vegetables are fork-tender.

Once the vegetables are tender, remove and discard the bay leaf and bouquet garni.

Using a food processor or blender, puree together the soup until smooth- This may need to be done in batches.

Return the pureed soup to the pot and stir in milk. If needed, season the soup with additional salt and pepper.

Serve soup warm and garnish with chopped parsley and pepitas.