Tortilla-crusted chicken is an entree that will definitely wow your guests! If you want to switch up taco night, make tortilla-crusted chicken. It's fun to prep and is baked for a healthy alternative.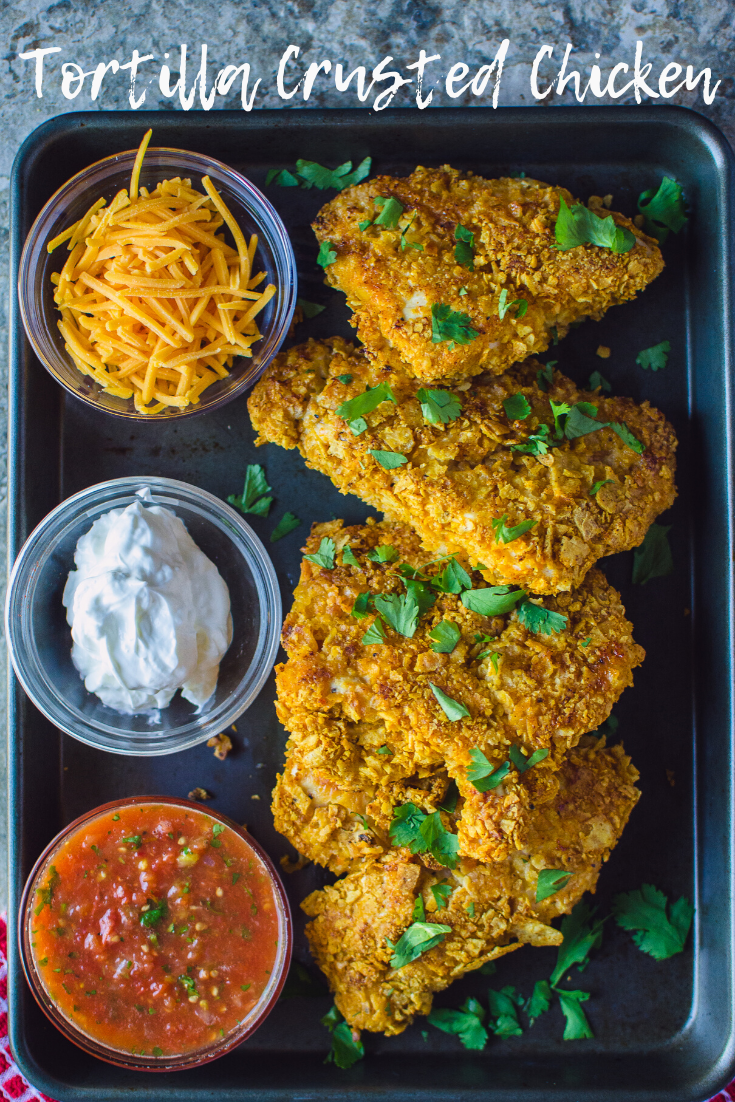 This is a throwback for me! I used to treat my husband (at the time, boyfriend) to tortilla-crusted chicken dinners when we were undergraduate students. We lived across the street from each other, and it was an easy and inexpensive date dinner to put together for college students- and it still is! The difference now is that I serve a little homemade salsa with it, and we have a little bundle of joy to share some with.
Tortilla-crusted chicken is FUN to make, especially if you are having a bad day. It involves crushing up chips and pounding the chicken thin. So, if you need to de-stress and feel like chowing down, this is the recipe for you.
Here's how it's made…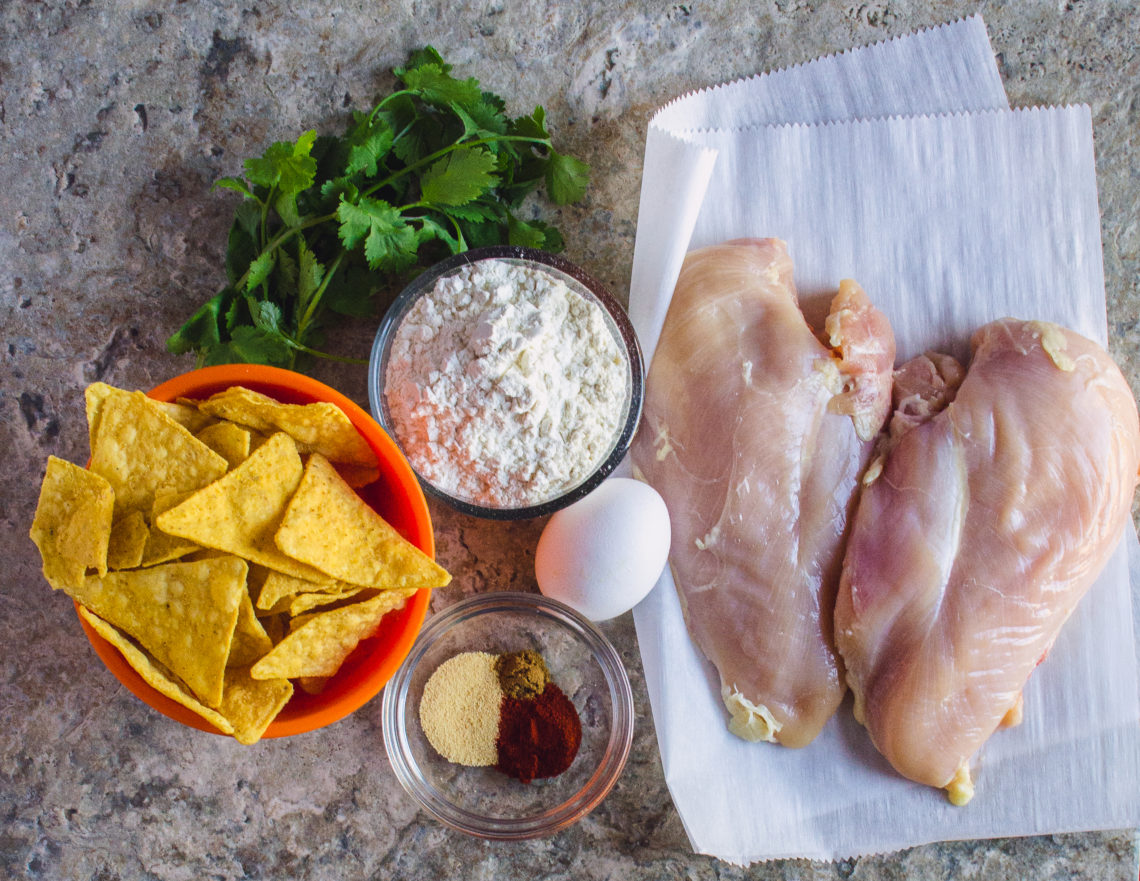 Prep the Tortilla Chips
I like to crush the chips in a gallon-sized freezer bag. The bag will later serve as a vessel for coating the chicken. I find using a rolling pin to crush the chips most comfortable. To get the chips broken down into even-sized crumbs, I roll one side of the bag a few times, then flip the bag over and roll again. I repeat this process until the tortilla chips are broken into a panko-like consistency.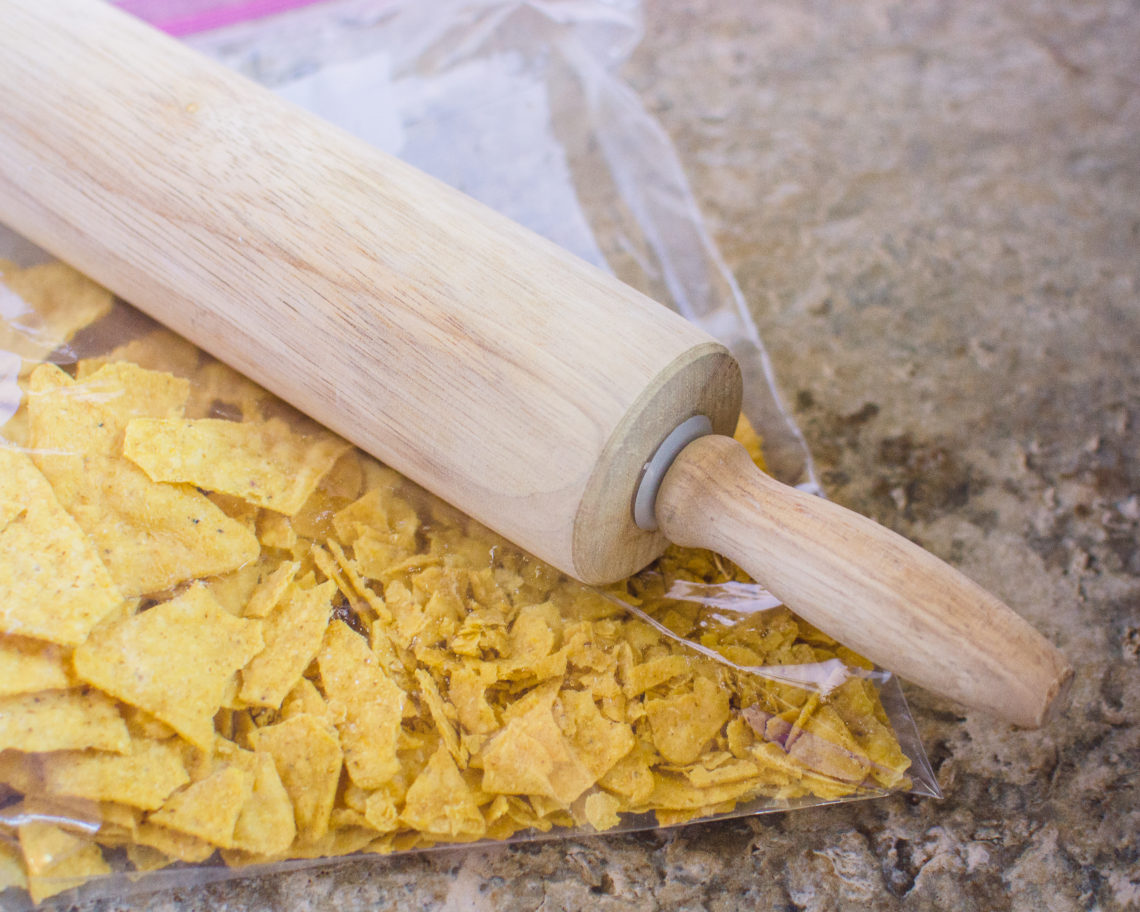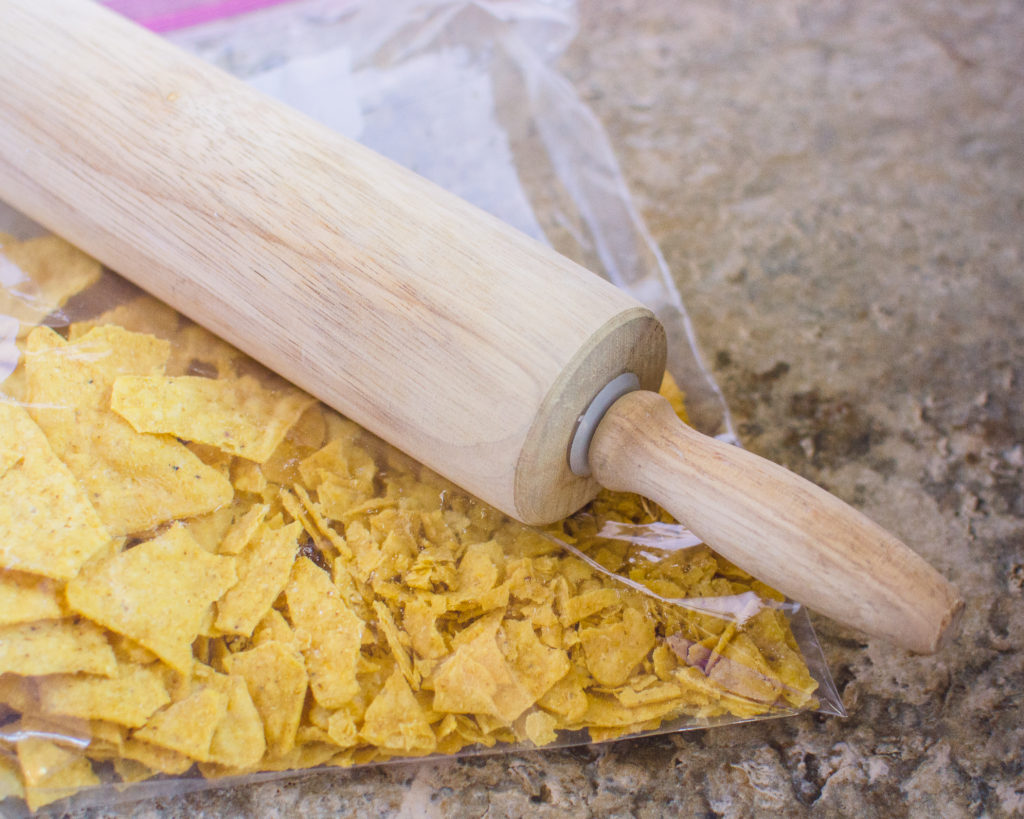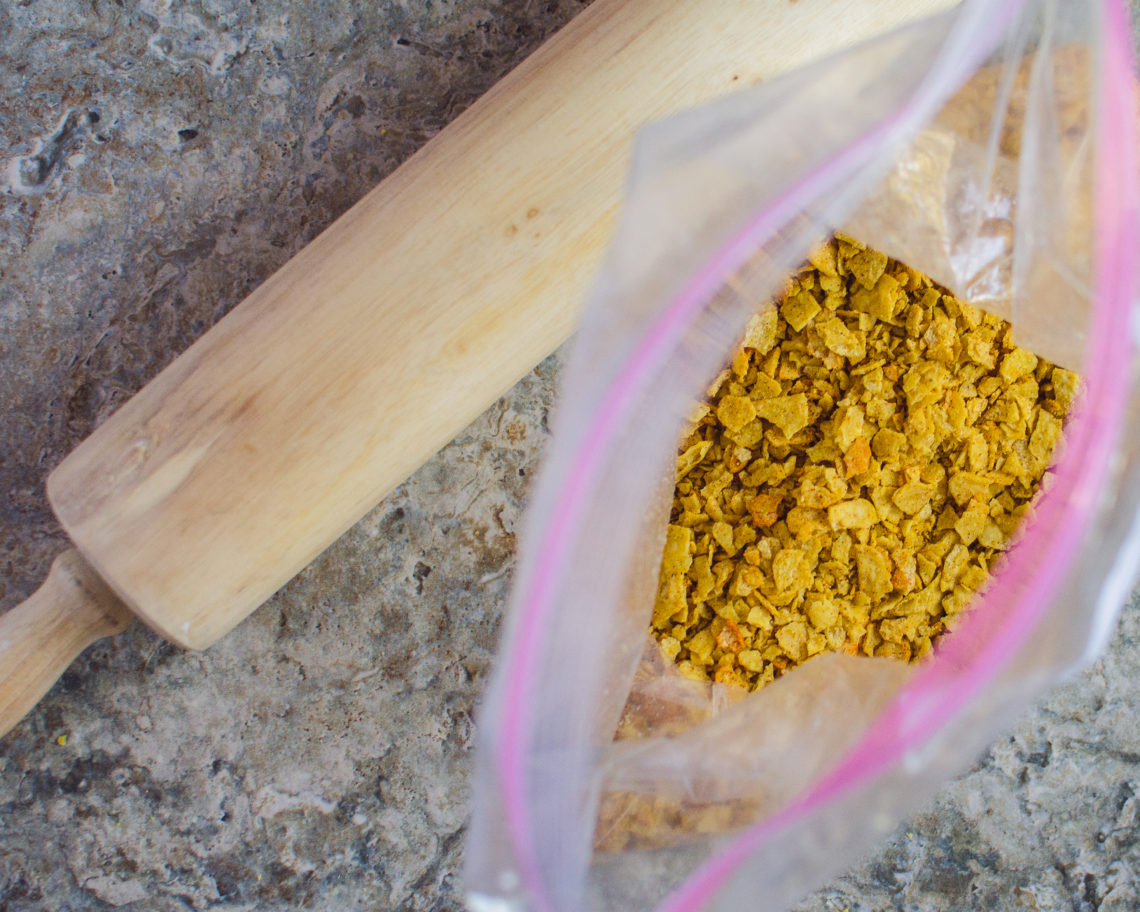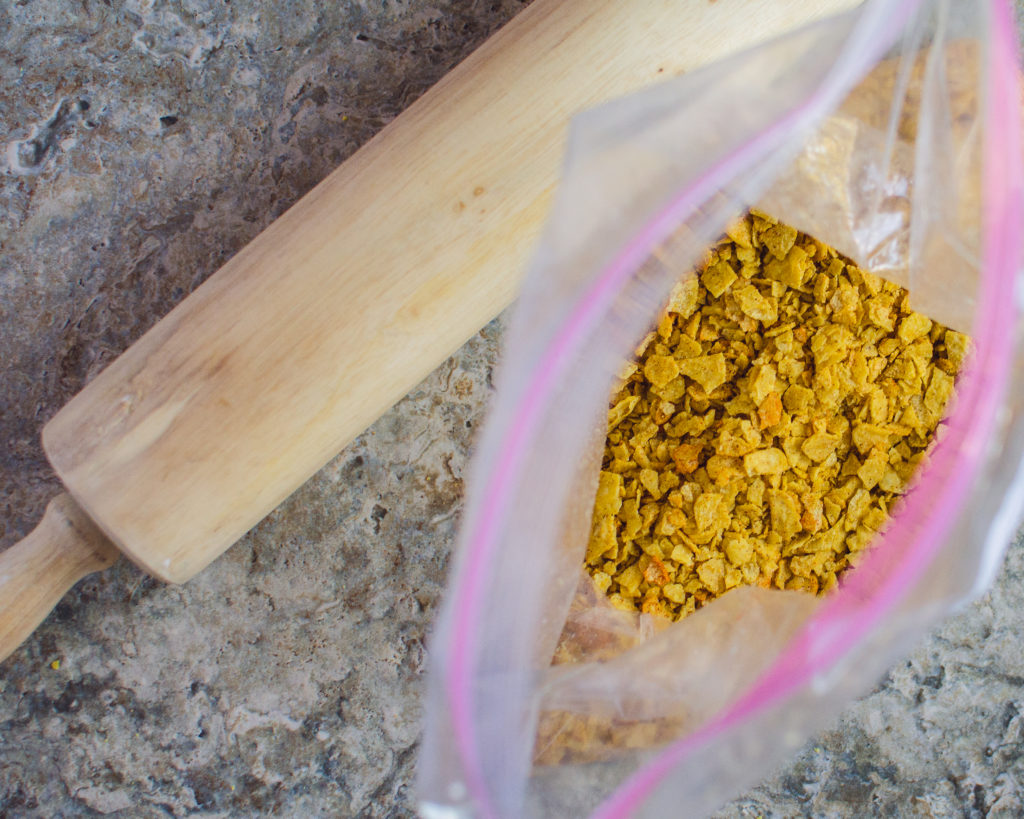 Prep the Chicken
Next, you'll want to prep the chicken. I prefer using boneless, skinless chicken pieces that I cut down myself. Two large chicken breasts can be split in half to create four servings. I recommend pounding the chicken pieces out to make the baking process quicker. This also tenderizes the chicken and is another fun time to relieve stress! You can use a rolling pin, mallet, or a heavy pan to do this.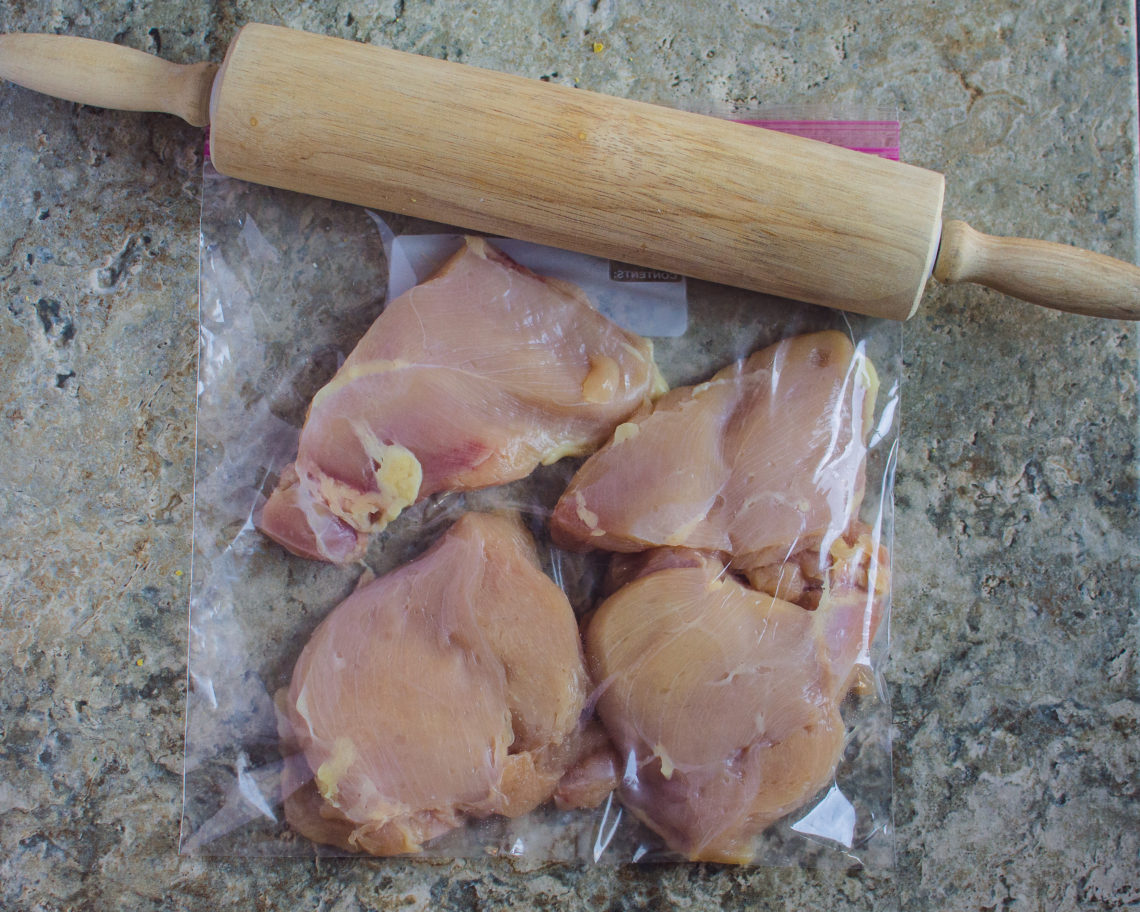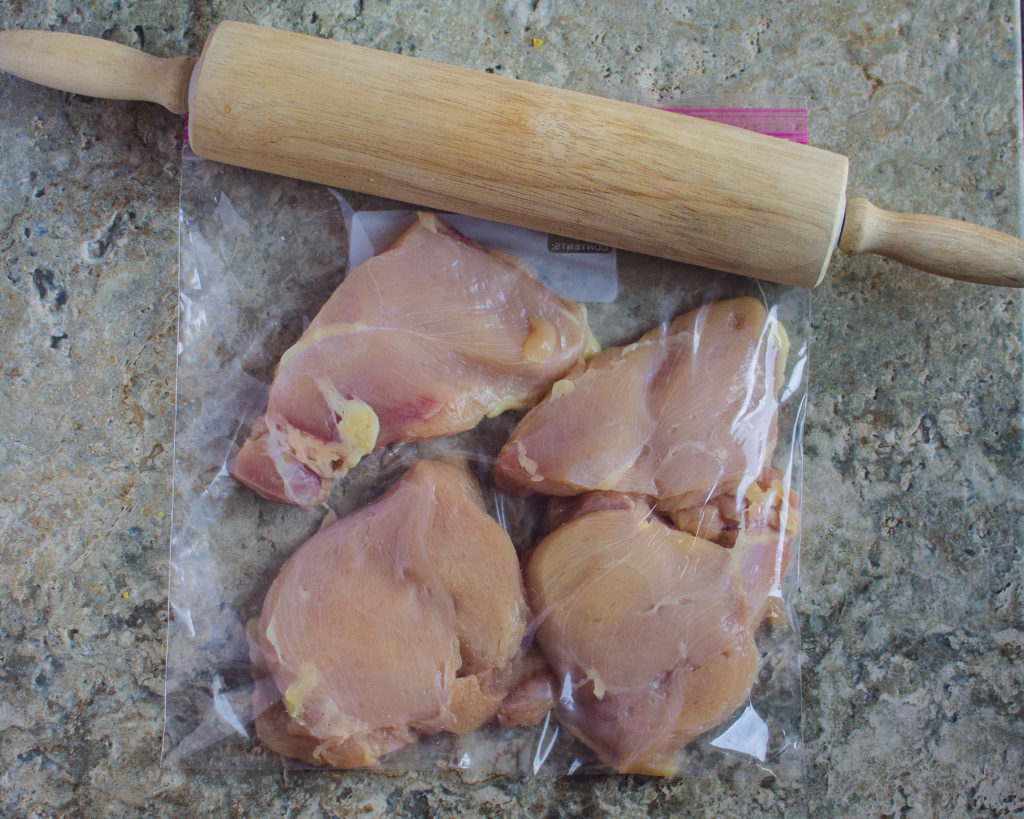 Dredge & Bake
Dredging chicken can be pretty simple if you prep your station first. Remember, mise en place means "everything in place" before you start cooking. For more info, visit my post here.
You'll want to set up a little dredging station that includes a bowl of flour, a bowl of egg wash, your bag of crushed tortilla chips, and a prepared baking sheet to place your dredged chicken pieces at the end.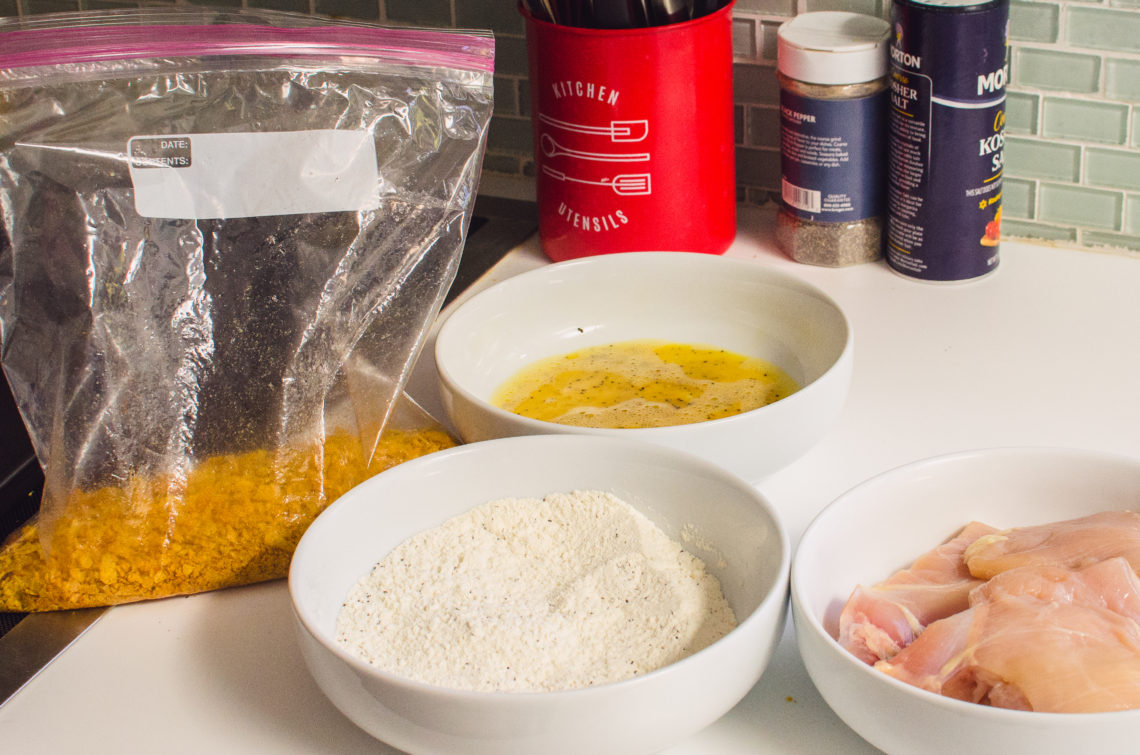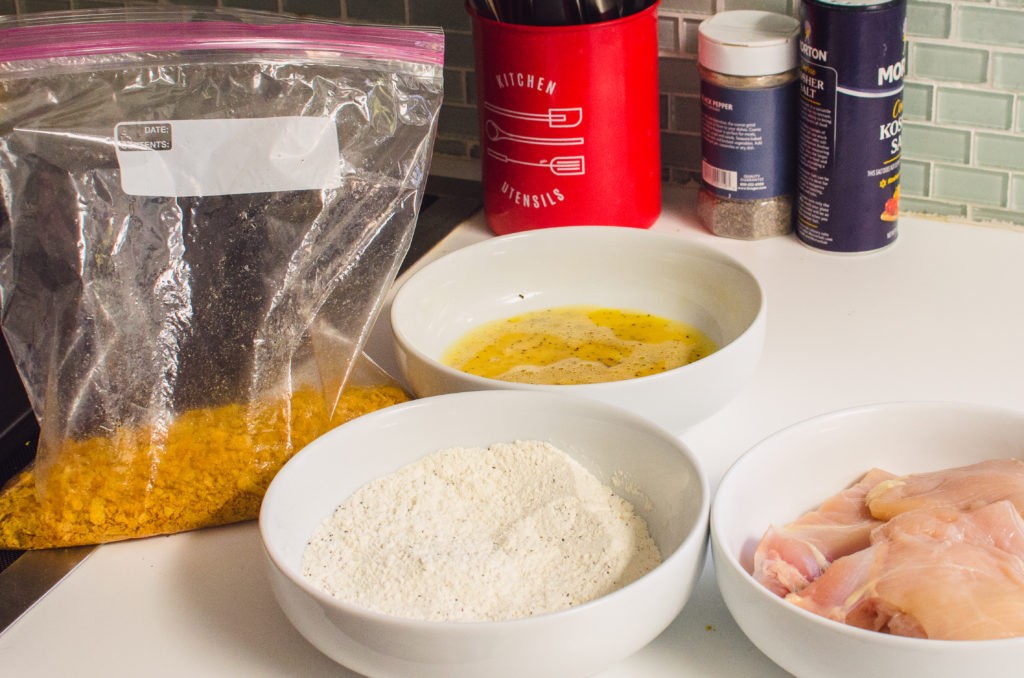 Be sure to lightly season your chicken and the flour with salt and pepper before you begin. You'll also mix the spices in the tortilla chips. Note: I don't add salt or pepper to the tortilla chips because the store-bought chips are usually pretty salty.
When preparing the egg wash, I like to add a splash of water to the eggs as I whisk them. This loosens the egg slightly. It doesn't take much, just a splash.
When ready, you'll work with one piece of chicken at a time. You'll first coat the chicken entirely in the seasoned flour, dip it in the egg wash, and then place it in the bag of tortilla chips. Close up the bag and shake to coat the chicken in the chip pieces- just like 'Shake and Bake'! Remove the chicken from the bag and place on the prepared baking sheet. Repeat this process with the remaining three pieces of chicken and then bake until golden and cooked through.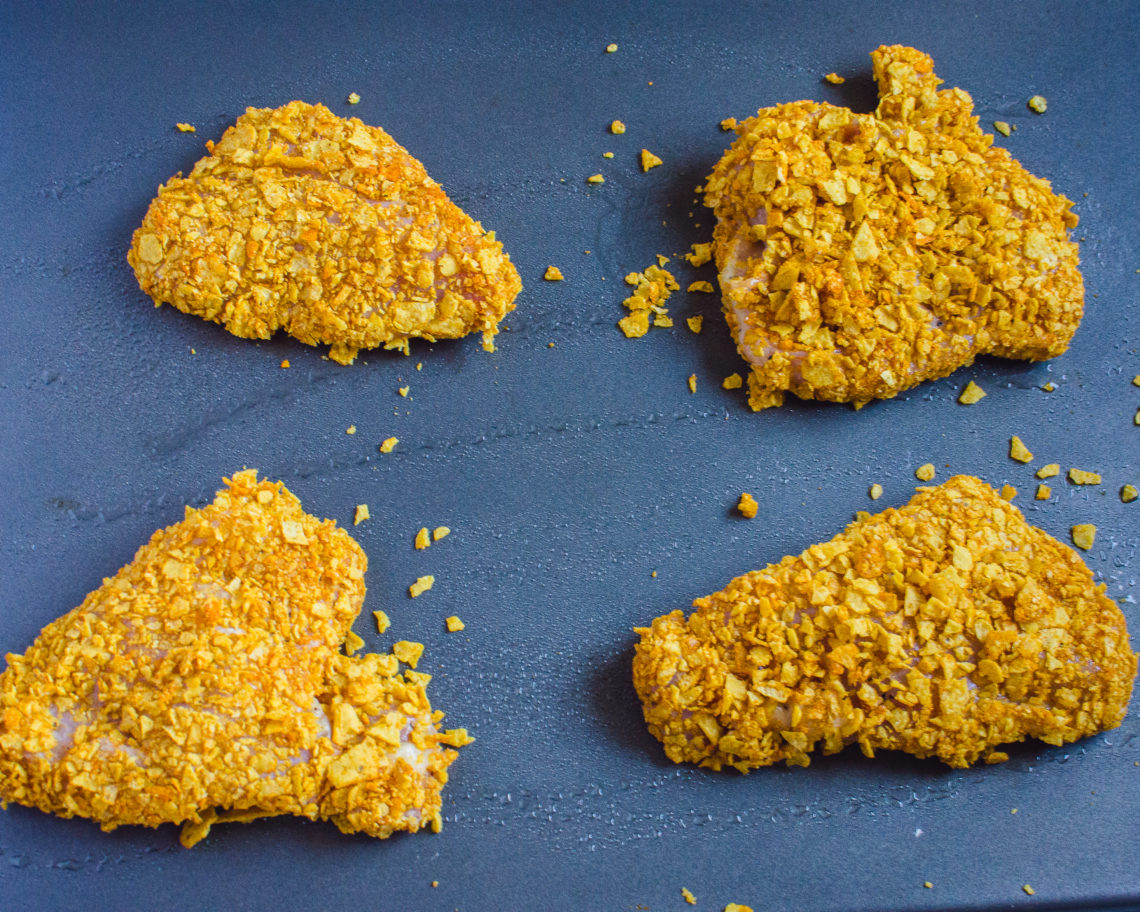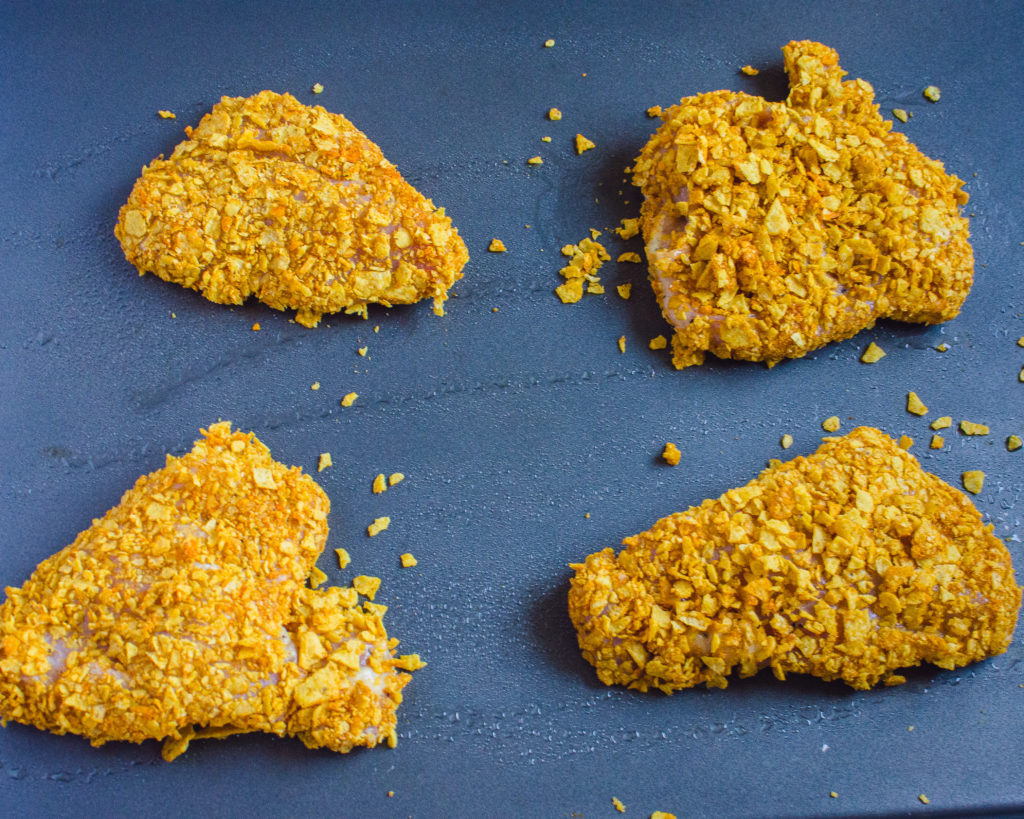 Serving
Once the chicken is baked, serve warm on a platter. It is fun to serve the chicken with optional toppings for your guests. Any toppings you would pair with tacos or fajitas go wonderfully with this dish: sour cream, cheese, salsa, limes, cilantro, etc.
If you are up to making homemade salsa, check out my recipe for Roasted Tomato Salsa.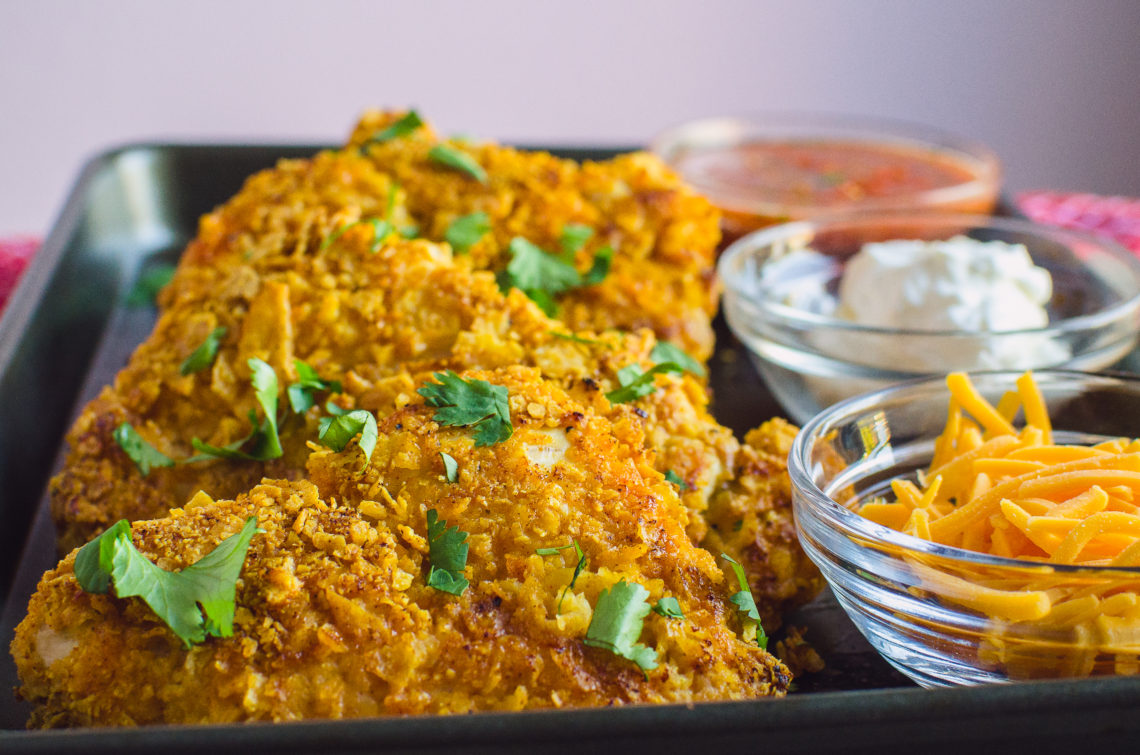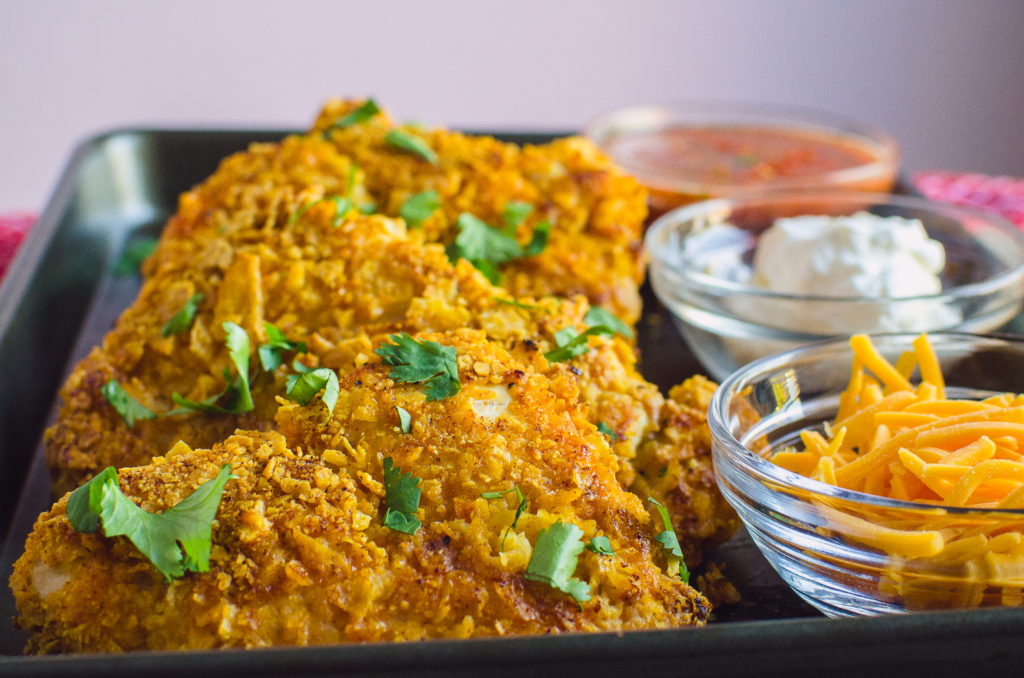 All in All
This has been one of my favorite dishes over the last decade. It brings back so many fun memories! Christian and I always reminisce about funny college stories while eating this dish. I hope this becomes one of your favorites, too.
Do you have a dish or meal that brings back fun memories? If so, please share it in the comments. I'd love to hear!
Don't forget to pin this recipe for later!!!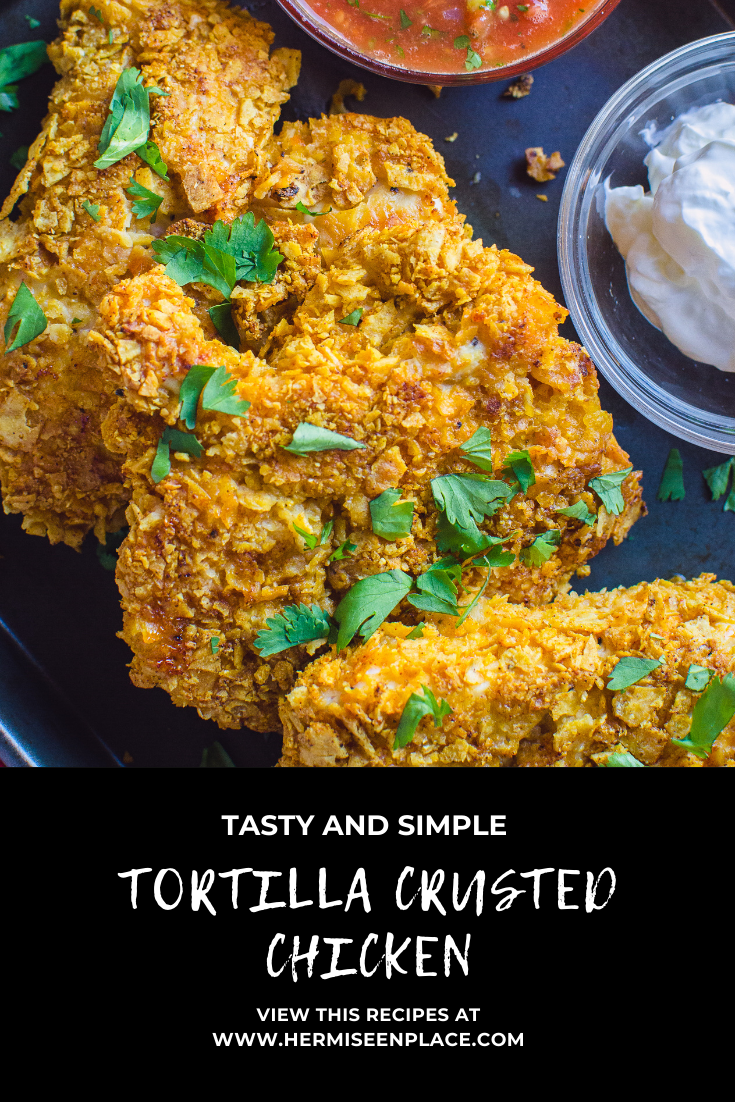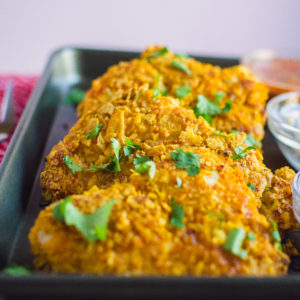 Tortilla Crusted Chicken
Ingredients
2

Boneless, Skinless Chicken Breast

about 1-1 1/2 pounds

5-6

handfuls

Tortilla Chips

3/4

cup

all purpose flour

1/4

teaspoon

cumin

1/2

teaspoon

garlic powder

1

teaspoon

onion powder

1

teaspoon

smoked paprika

salt and pepper (to taste)
Instructions
Prepare Tortilla Chips
Crush the tortilla chips in a gallon-sized freezer bag.

Mix in cumin, onion powder, and smoked paprika. If desired, add salt and pepper.
Prepare Chicken & Dredging Bowls
Split chicken breasts in half. Pound chicken with a heavy skillet or rolling pan until about 1 inch thick. Pat chicken dry with a paper towel and season with salt and pepper.

In a bowl or plate, season flour lightly with salt and pepper.

In another bowl or a small baking dish, whisk together the egg with a splash of water.

Prepare a rimmed baking sheet by spraying it lightly with your favorite cooking spray.
Dredge Chicken & Bake
One piece of chicken at a time dredge the chicken in the following order: coat with flour, dip in egg wash and then coat with tortilla chips. Place the chicken on the baking sheet and repeat this process with the remaining 3 pieces of chicken.

Bake the chicken at 375 degrees F until cooked through. This will take about 20-25 minutes. Flip the chicken halfway through.

When chicken is cooked, serve on a platter with desired toppings. Optional: Garnish with chopped cilantro.