I can't believe there are only two months left in the year. Once Halloween happens, it's like a whirlwind of holiday parties, family events, potlucks on top of transitioning to the crisp, cool air. I love traditional holiday meals and comfort foods. However, this year my goal is to try a few new dishes and elevate some of my favorites. For example, instead of traditional mashed potatoes, I will switch it up occasionally by making smashed potatoes.
Smashed potatoes are quite tasty. It's like having little mini baked potatoes. They are the perfect combination of crispy potato skins on the outside and fluffy potato on the inside. My recipe for smashed potatoes uses white truffle oil, fresh sage and grated parmesan cheese for strong flavor. The smell of the kitchen is so heavenly after these are finished.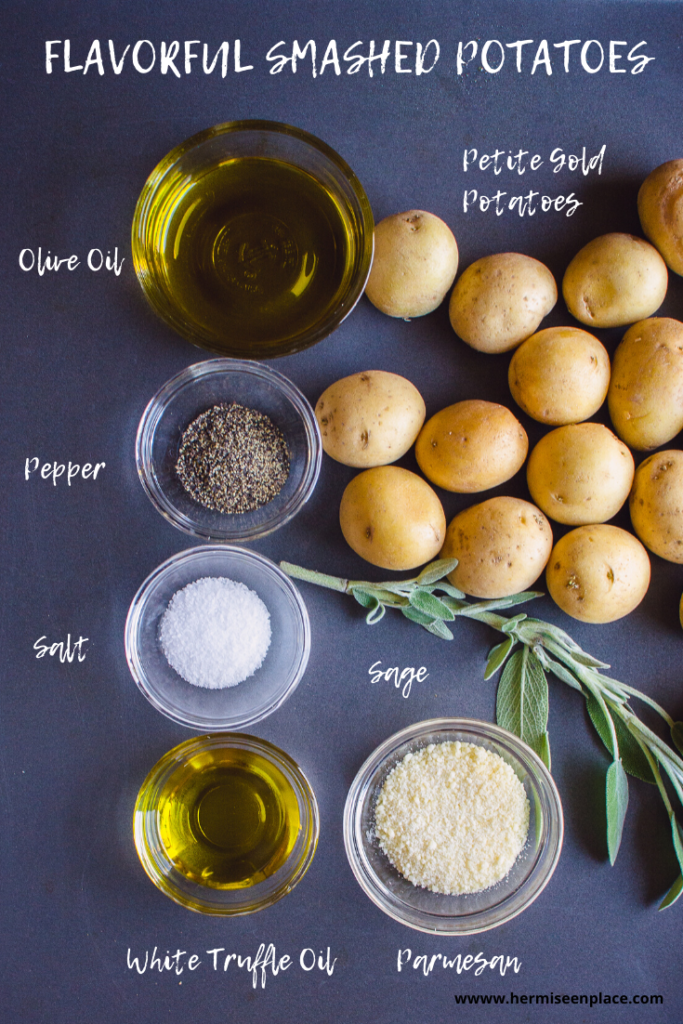 The Process
Boiling & Smashing:
Making this recipe is simple. You start by boiling petite potatoes until they are fork-tender. After draining the potatoes, you'll smash them on a baking sheet. I recommend using a heavy glass like a mason jar. You just simply press the jar down on each potato until the skin breaks and the potato is flattened.
Adding Oil & Seasoning:
After the potatoes are smashed, you'll brush the potatoes with oil, season with salt and pepper, and top with the sage and parmesan cheese.
Baking Until Crisp:
Next, you'll bake the potatoes in the oven to make the skins crispy. This won't take long because the potatoes are already cooked through.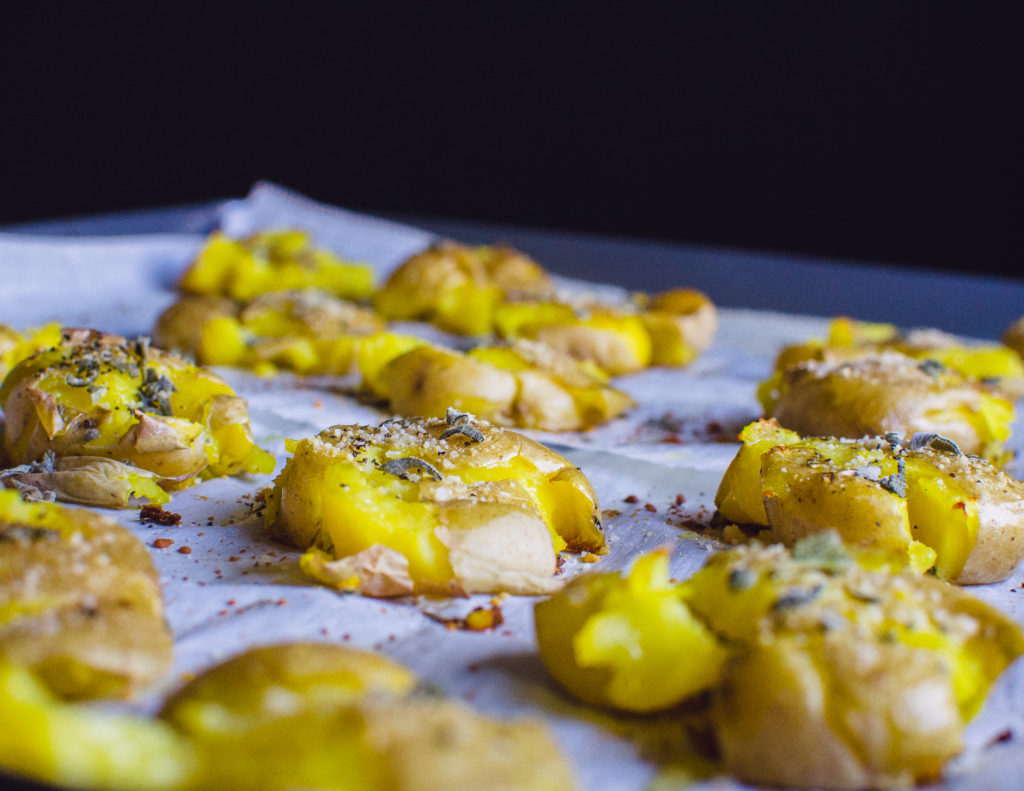 All in All
Overall, this is a very flavorful recipe. I love using white truffle oil to elevate a simple dish. This is definitely a side dish that I will continue to use as an alternative to traditional mashed potatoes during dinner. It'll also be quite a treat for guests during dinner parties.
Thanks for reading and don't forget to Pin this Recipe for your upcoming dinner parties!
Smashed Potatoes with truffle oil, sage & parmesan
Ingredients
1

pound

petite gold potatoes

1/4

cup

olive oil

1/8

cup

white truffle oil

1/8

cup

grated parmesan cheese

plus more for serving

1

sprig

fresh sage

chopped

salt and pepper (to taste)
Instructions
Preheat oven to 425 degrees Fahrenheit. Boil potatoes in a large pot of water until fork tender. Drain and let sit in the colander for about 5 minutes.

While potatoes are cooling, whisk together olive oil and half of the truffle oil in a small bowl.

On a baking sheet lined with parchment paper, spread out the potatoes. Smash potatoes using a heavy glass such as a mason jar.

Brush each smashed potato generously with the oil mixture.

Next, season the potatoes with desired amount of salt, pepper, and the chopped sage. Sprinkle with the parmesan cheese.

Bake the potatoes for 8-10 minutes until crispy. To serve, drizzle with remaining truffle oil and serve with additional parmesan cheese.