So, a quick confession. I'm a recovering perfectionist. I've been stalling on posting this recipe just because it wasn't Picture PERFECT. My oven temp was way too low at the beginning because I accidentally set it wrong. Therefore, the puff pastry sank a little. I also wasn't completely pleased with the lattice.
Then I realized, "What is wrong with me?". My family LOVES this dish. When I placed it on the table, my husband said, "Wow", and my toddler smiled.
Sometimes, our imperfect dishes are surprisingly fulfilling. This Chicken Pot Pie is TASTY, SIMPLE to make, and HEARTY!
Plus, the purpose of this blog is for me to refine my cooking skills, learn from my mistakes and share them with you, friends. I hope that my lessons along the way are helpful to your culinary adventures and encourage you to go be brave in the kitchen.
Mise En Place
Here are the ingredients you'll find in my Chicken Pot Pie Recipe…
Sweet Yellow Onion
Carrots – Peeled and diced
Celery
Garlic
Unsalted Butter
Frozen Peas – no need to thaw
Puff Pastry – takes 30 minutes to thaw
Ground Thyme
Chopped Rotisserie Chicken
Chicken Broth
Whole Milk
All Purpose Flour
Salt & Pepper
One Egg + Water = Egg Wash
This recipe is a great combination of fresh ingredients and prepared food for convenience. For example, the onions, celery and carrots are freshly diced while the peas are from the freezer aisle. I don't use canned peas due to the high sodium.
Also, instead of cooking the chicken from scratch, I use the meat from a store bought rotisserie chicken. This probably sheds 20-30 minutes of cooking time.
The Crust
One way to take your chicken pot pie to the next level is to change up the crust. Instead of traditional pie crust, I use puff pastry. I usually just lay it across the top of my pot pie mixture, but this time I cut thawed puff pastry into one-inch strips and weaved them together to make a lattice. I still brushed the pastry with an egg wash to help it reach a golden brown hue.
You may opt to simply lay the whole sheet of puff pastry across the top. Or you may come up with a fun or fancy crust design. Either way, go for it! Be brave and try something new for the fun of it.
All in All
Although my chicken pot pie isn't exactly magazine cover worthy, it sure is delicious and the flavors are on point! The filling is hearty and creamy. The ingredients are traditional and simple. All of of these qualities make it a true comfort dish.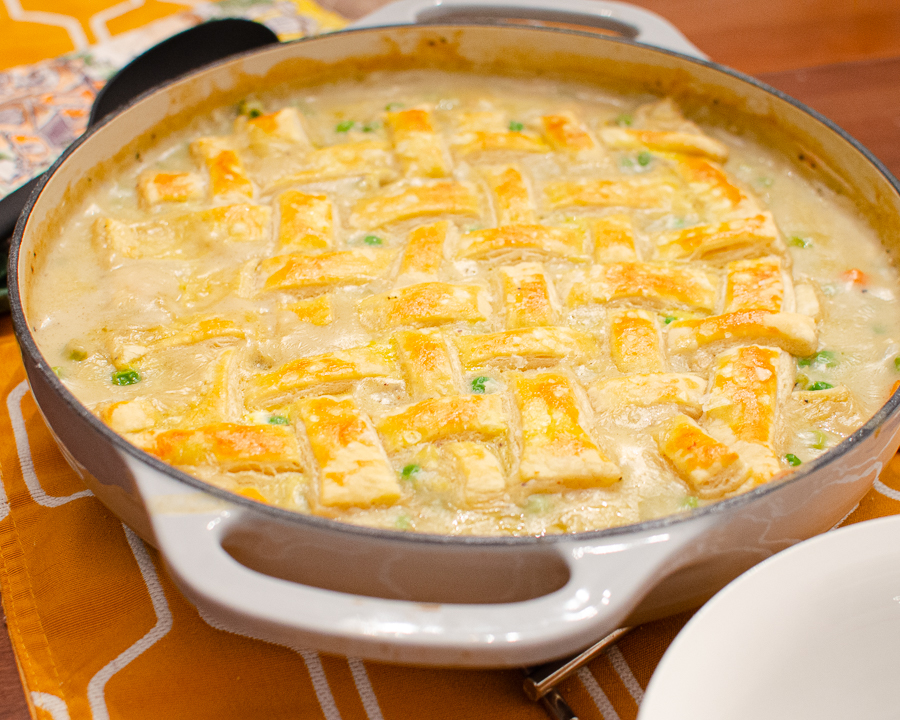 Chicken Pot Pie
Ingredients
1

Small, Sweet Onion

chopped

2-3

Carrots

peeled and sliced

2

Celery stalks

1

teaspoon

minced garlic

6

Tablespoons

Unsalted butter

1

Sheet

Frozen Puff Pastry

Thawed

1

12 oz Package

Frozen Peas

1/2

Tablespoon

ground thyme

1/3

Cup

all purpose flour

2

Cups

chicken broth

1

Cup

whole milk

1

Cup

Rotisserie Chicken

diced or shredded

1

Egg

1

Tablespoon

water

salt and pepper (to taste)
Instructions
Preheat oven to 400 degrees F.

In a small bowl, whisk together egg and water. Set aside.

In heavy pan or skillet, melt butter. Saute carrots, onions, celery and garlic until vegetables are softened; about 6-8 minutes. Season lightly with salt and pepper.

Form a roux: Stir ground thyme and flour into vegetables until well combined. Allow to cook for about 2-3 minutes until flour melts and is bubbly.

Add stock and milk to pan. Stir for 2-3 more minutes until mixture thickens to a gravy like consistency. If needed, season with more thyme, salt and/or pepper.

Turn off heat and stir in the frozen peas and chicken.

Transfer mixture to a baking dish. Lightly lay the puff pastry (either as a full sheet or in a lattice) on top of the vegetable mixture.

Carefully, brush egg wash on the puff pastry. Optional: Sprinkle on salt flakes prior to baking.

Bake pot pie for 15- 20 minutes until pastry puffs and is golden brown.
Notes
Be sure to allow ample time for your frozen puff pastry to thaw.
If you don't have flaky salt for topping the puff pastry, you can lightly season with salt and pepper.
Feel free to add other seasonings to the pot pie such as parsley, rosemary and/or sage.