I am glad to have been chosen to participate in the 2020 Black History Virtual Potluck. It is an honor to share my recipe alongside AMAZING Black Food Bloggers who I admire and follow.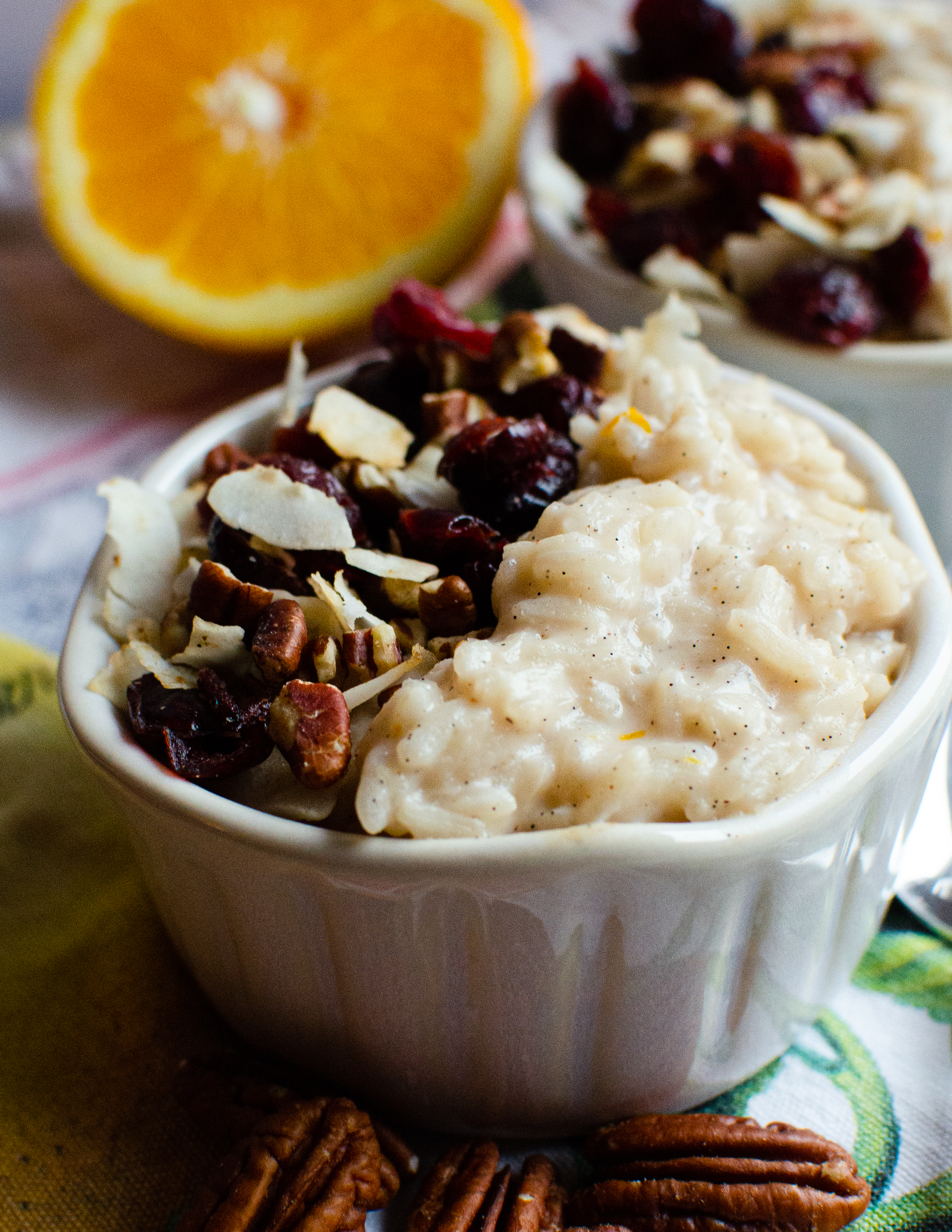 At the end of this post, is a full list and links to the participant sites!
What is the #BHMPotluck?
This is the fourth annual event. The Black History Month Virtual Pot Luck is an opportunity for 28 Black Food Bloggers to showcase their unique recipes and cooking styles. This year participants were asked to share their take on a soul food or black cuisine recipe that is vegetarian or vegan.
I chose to adapt one of my favorite comfort foods: RICE PUDDING! It's a dish my great-grandmother used to make, as did my grandmother, my mother, and now me. We all, of course, have our version.
My Rice Pudding Experience
"If you know whence you came, there is really no limit to where you can go."

—James Baldwin
My earliest memories of eating rice pudding were in my early childhood. I grew up eating it primarily for breakfast. It was a sweet treat made with sugar, cinnamon, nutmeg and milk. It broke up the monotony of cereal or scrambled eggs. It sometimes was a way to use leftover cooked rice from a previous meal- because waste not.
My mother and grandmother made rice pudding on the stove top. According to my cousin Chris (our family historian & amazing cook), my great-grandmother Agnes typically baked rice pudding as a dessert for family gathering and holidays. He also confirmed that hers was baked and included raisins. According to my Mom, she included egg to create a more custard-like pudding for the dessert.
Soul Food and Vegetarianism

When I think of soul food, I think of the powerful and delicious influence African Americans have had on American cuisine for centuries. It is said that Soul Food began with African American slaves making do with what ingredients were available.
Ultimately, the influence of the African Diaspora in cooking has lead us all to traditional soul food dishes such as fried chicken, cornbread, collard greens, black-eyed peas, and so much more (if I keep going, I'll start drooling on the keyboard). Soul Food is truly an important part of African American heritage, history and pride. It shows how our ancestors experienced food, created traditions and adapted a flavorful cuisine despite adversity.
"Diversity is not about how we differ. Diversity is about embracing one another's uniqueness."

—Ola Joseph
Today you can find Soul Food restaurants from coast to coast. There are even vegetarian and vegan soul food restaurants! According to author Joshua Clark Davis in Black Prospectives, "While restaurants offering meatless versions of soul food classics like Atlanta's Soul Vegetarian, are over twenty-five years old," He continues on to say, "Many more "vegan soul" eateries have opened in the last decade. A wide array of vegetarian cookbooks for African Americans have hit the shelves in the last decade."
Here is my take on Rice Pudding: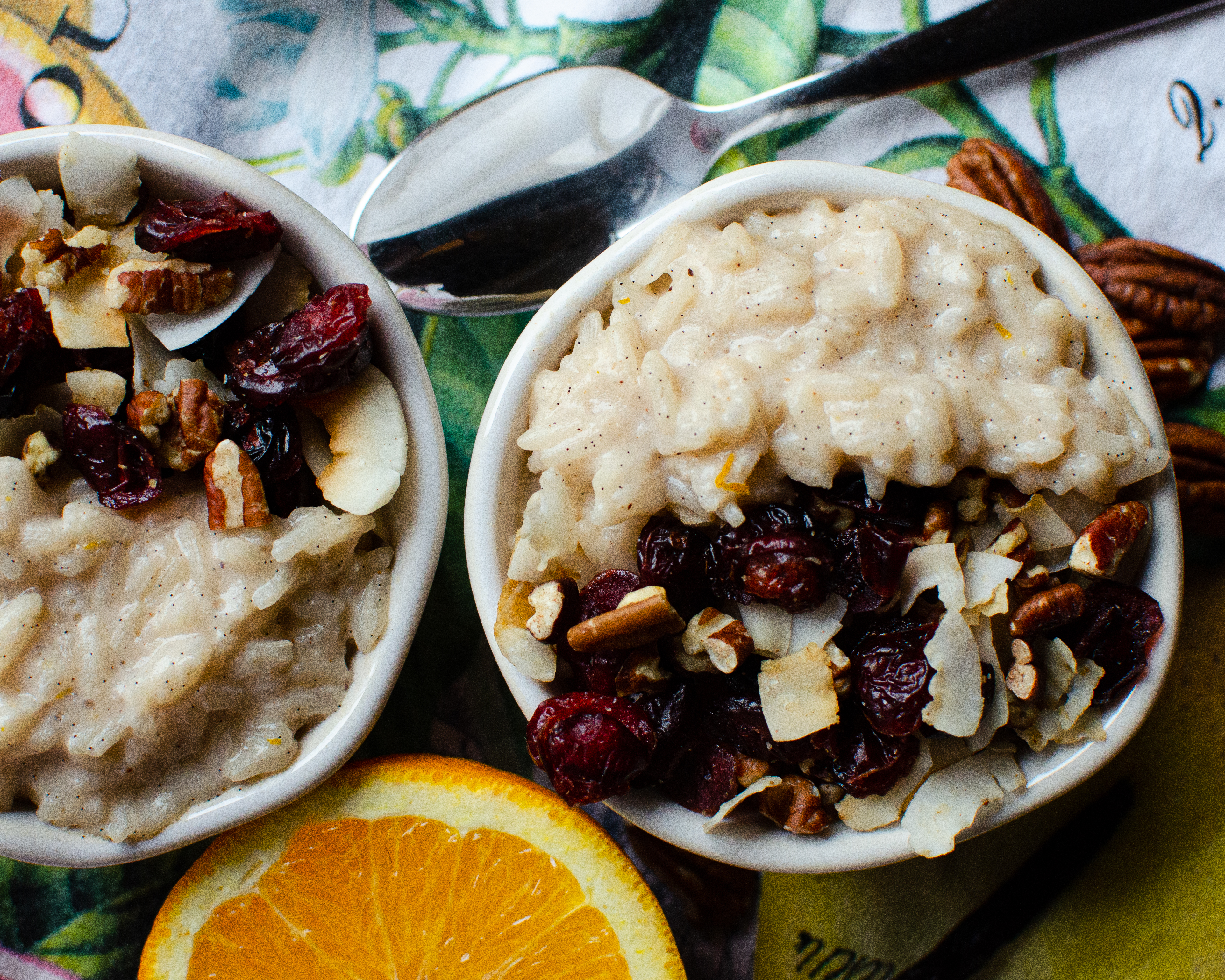 Mise En Place
The version I am sharing with you is elevated with fresh vanilla beans, orange zest, coconut sugar, honey and fragrant jasmine rice. Coconut milk is a healthy and flavorful alternative to cream. My rice pudding still includes hints of traditional spices like cinnamon, nutmeg and cloved. The toppings include dried cranberries instead of raisins, pecans and coconut flakes.
The Steps
1. Making the Topping: Start by preparing your rice pudding toppings. In a bowl, stir together coconut flakes, 1/2 tablespoon of water, and sugar. Next, you'll mix in the pecan pieces. Spread the mixture into a single layer on a lined baking sheet and bake for no more than 5 minutes. Remove and let cool. Once cooled, stir in dried cranberries.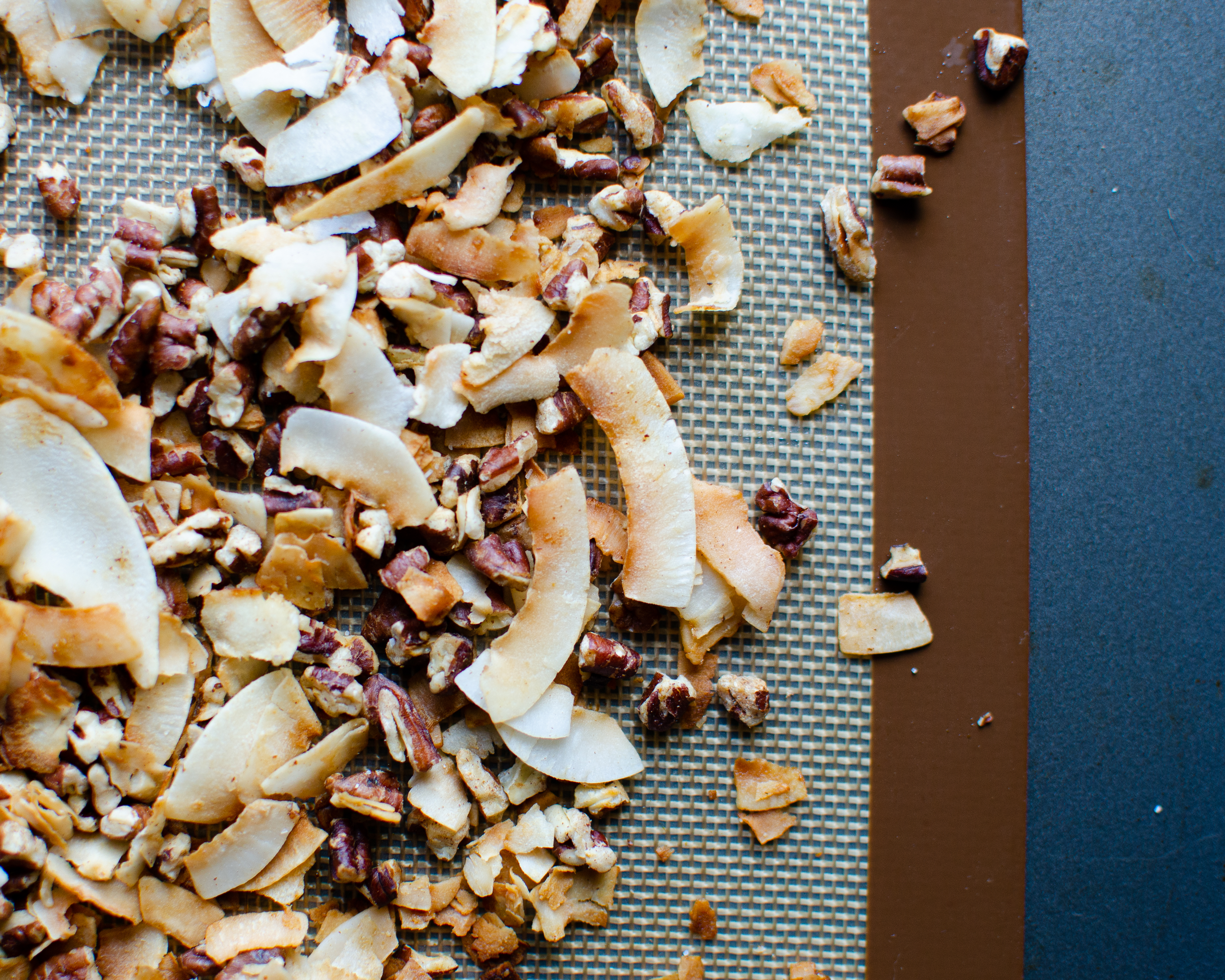 2. Preparing the Liquid for the Rice: The next step is steeping your spices, coconut sugar, honey, orange zest and vanilla bean seeds and vanilla bean pod in a pot of water and coconut milk. For a vegan option- omit the honey
3. Cooking the Rice: Once the milk begins to boil, you'll need to turn your stove burner down to it's lowest level, stir in the rice, and cover with a lid. Allow the rice to slowly simmer on low until it absorbs all of the liquid and is tender.
When your rice is finished, discard the vanilla bean pod and add more coconut milk and/or sugar to your preference. You can make the pudding as creamy or sweet as you desire!
4. Serving the Finished Rice Pudding: To serve, spoon warm rice pudding into a bowl and top with desired amount of the baked coconut mixture.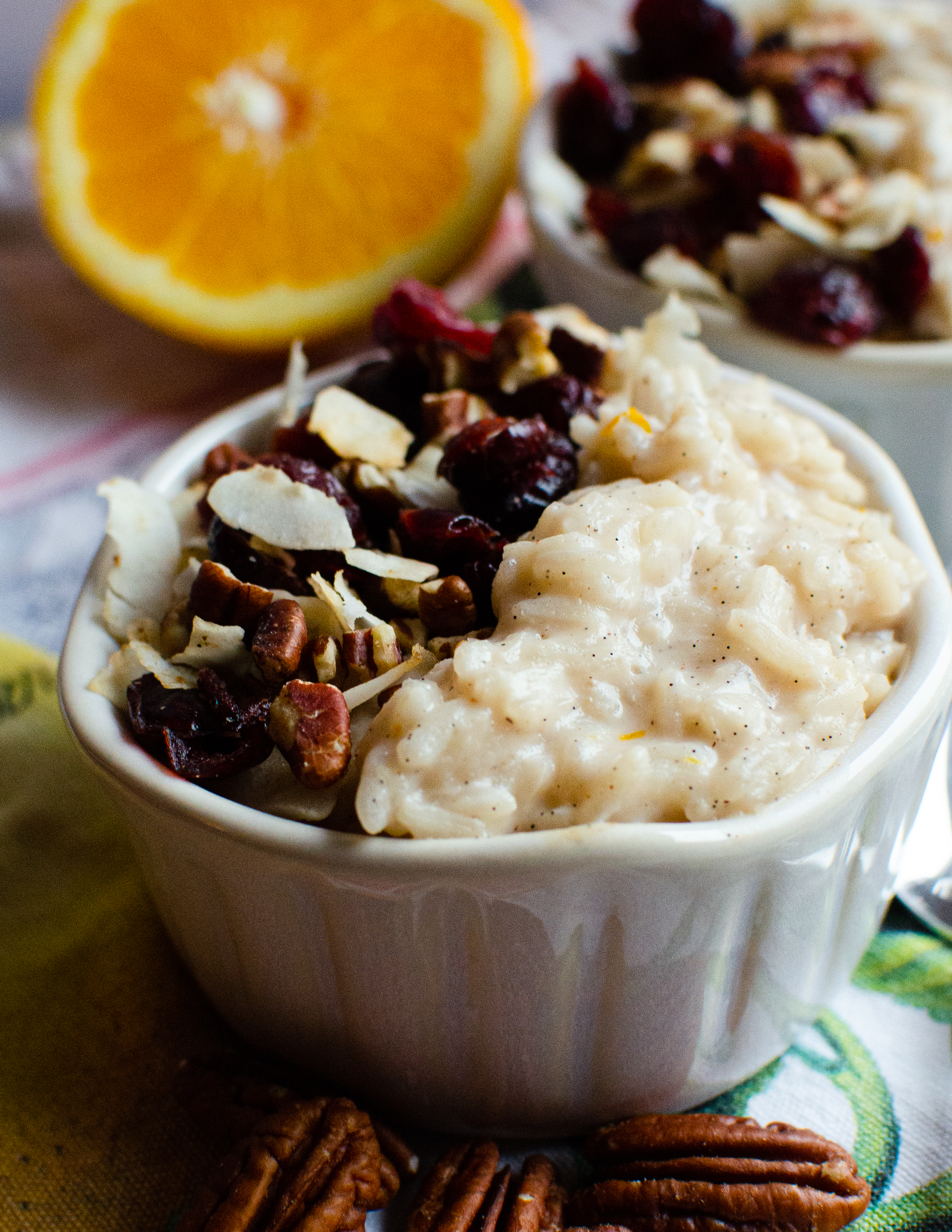 BHM Virtual Potluck Round Up
Here are the links of participating bloggers in the 2020 BHM Virtual Pot Luck. Please show them some love by pinning, sharing, and/or visiting their recipe posts! #BHMPotluck
Beautiful Eats & Things | Honey Herb Roasted Sweet Potatoes | vegetarian
D.M.R. Fine Foods |Vegetarian Chili | vegetarian
Dash of Jazz |Vegan Buttermilk Biscuits with Spiced Pear Compote | vegan
Dish it with Tisha | Mushroom and Okra Po' Boy |vegetarian
Domestic Dee |Dirty Rice |vegan
Food Fidelity |Vegan Curry Cauliflower | vegan
Kenneth Temple |Wakanda Cake | vegan
Marisa Moore Nutrition |Spicy Black-Eyed Pea Fritters | vegan
Meiko and the Dish | Cajun Shrooms & Grits | vegetarian
Rosalynn Daniels | Vegan Bread Pudding | vegan
Savory Thoughts | Haitian Black Rice (Diri Djon Djon) | vegan
The Hungry Hutch | Vegetarian Southern-Style Collard Greens | Vegan
Whisk it Real Gud | Vegan Jollof Rice | vegan
A Little Food | Southern Sweet Fried Corn | vegan
AGirlCalledAdri | Pound Cake | vegetarian
Baum Ass Foods | Slow Cooked Black-eyed Peas + Greens | vegan
Collards Are the Old Kale | Red Beans and Tri-Color Quinoa | vegetarian
FoodLoveTog | Black-Eyed Pea Hummus | vegetarian
Her Mise En Place | Rice Pudding | vegetarian
Kalisha Blair | Yeasted Cornmeal Dinner Rolls | vegetarian
Kenya Rae | Sweet potato Biscuits | vegetarian
On Ty's Plate | Collard Greens Salad with Orange Vinaigrette | vegetarian
Orchids + Sweet Tea | Banana Cake + Cinnamon Browned Butter Buttercream | vegan
Razzle Dazzle Life | Roasted Garlic White Veggie Lasagna | vegetarian
Sweet Tea and Thyme Sweet Potato Casserole with Brown Sugar Topping | vegetarian
Orchids + Sweet Tea | Southerner's Banana Pudding Cheesecake Bites | vegetarian
Marisa Moore Nutrition | Crispy Roasted Okra with Peanut Sauce | vegan
Kenneth Temple | Vegan File Gumbo | vegan
Meiko and the Dish | Sweet Potato Pancakes | vegetarian
All in All
Soul food and vegetarianism is ever-evolving! It's exciting to see black cooks (including the featured bloggers) continually create and enhance traditional dishes that define our culture and experiences in America. Soul Food is definitely a topic in Black History that everyone should explore.
I hope you enjoy my take on Rice Pudding! Thanks for reading.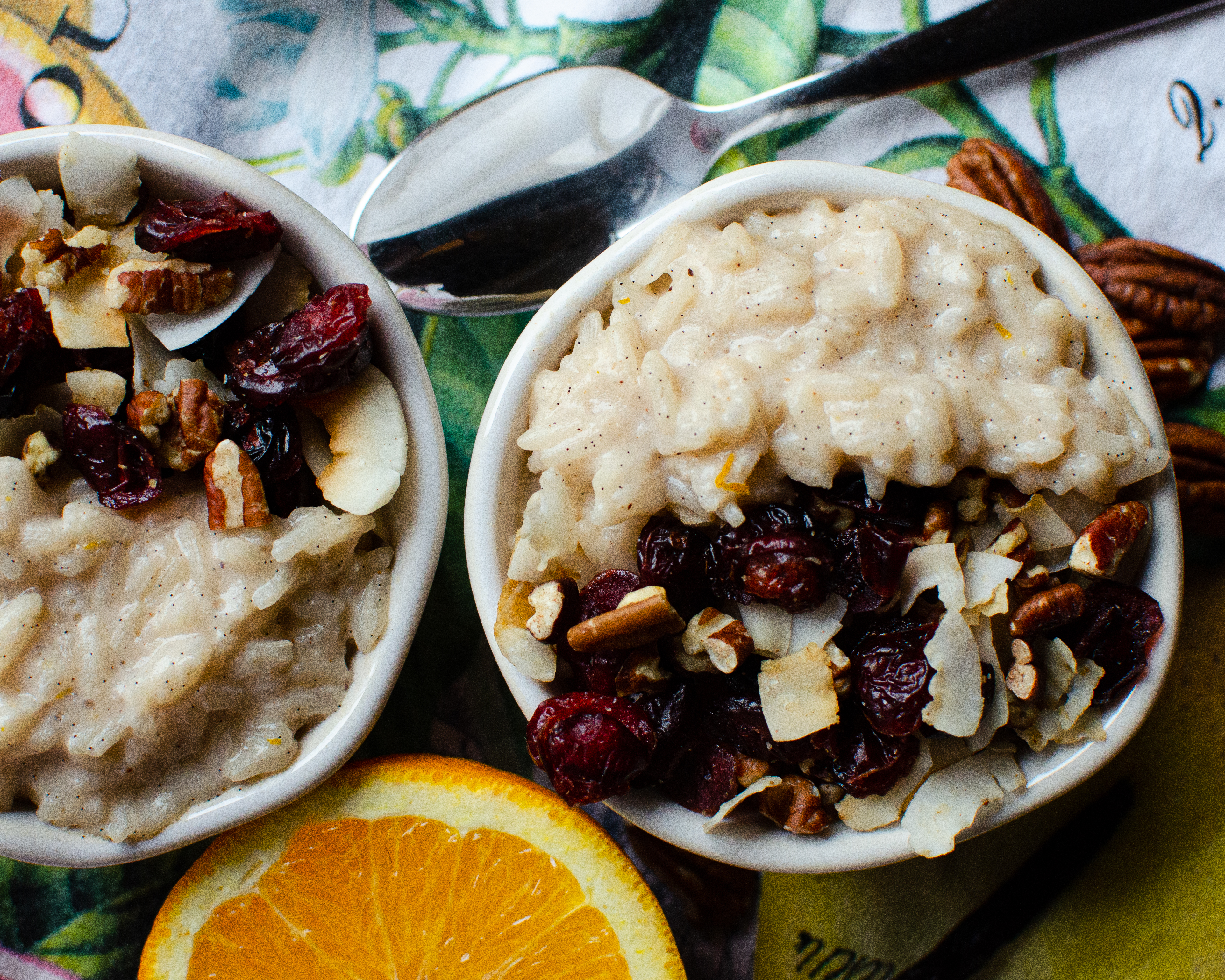 Rice Pudding
Ingredients
Toppings
1

Cup

Dried Coconut Flakes (unsweetened)

1

Cup

Pecan Pieces

1

Cup

Dried Cranberries

1

teaspoon

Coconut Sugar

1/2

Tablespoon

water

Dash of

salt
Rice Pudding
1

Cup

Jasmine Rice

1

Cup

Coconut Milk

1 1/2

Cups

water

1

teaspoon

Coconut Sugar

1

Tablespoon

honey

Optional- Omit honey to make recipe Vegan

1

teaspoon

Orange Zest

1

Vanilla Bean Pod

Split and seeds scraped out

1/8

teaspoon

salt

I used course Kosher salt

1/8

teaspoon

Cinnamon

1/8

teaspoon

Nutmeg

1/8

teaspoon

Ground Cloves
Instructions
Make the topping
Preheat oven to 350 degrees F. In a bowl, stir together coconut flakes, 1/2 tablespoon of water, and sugar. Next, mix in the pecan pieces.

Spread the mixture into a single layer on a lined baking sheet and bake for no more than 5 minutes. Remove and let cool. Once cooled, stir in dried cranberries. Set aside.

Once cooled, stir in dried cranberries. Set aside.
Make the rice pudding
In a pot over medium heat, whisk together water, coconut milk, coconut sugar, honey, orange zest,vanilla bean seeds and vanilla bean. When liquid begins to boil turn burner down to it's lowest setting.

Add rice to the liquid and cover. Let simmer over low heat for about 20 minutes or until liquid absorbs and rice is tender. Remove from heat.

Add desired amount of additional coconut milk until preferred creaminess is reached. Also add more sugar and/or honey to sweeten if desired.

Spoon warm rice pudding into serving bowls and top with the baked coconut, pecan and cranberry mixture.
Notes
If you chose to use a different type of rice (such as short grained, or arborio rice), cooking time and/or liquid amount may need to be adjusted. 
Coconut sugar can be substituted with your preferred sugar.  
Rice pudding keeps well refrigerated up to 3 days in an air tight container.