This Tomato Confit recipe is wonderful and flavorful. It's also a simple way to preserve an abudant amount of cherry tomatoes that you are growing or picked up at your local farmer's market.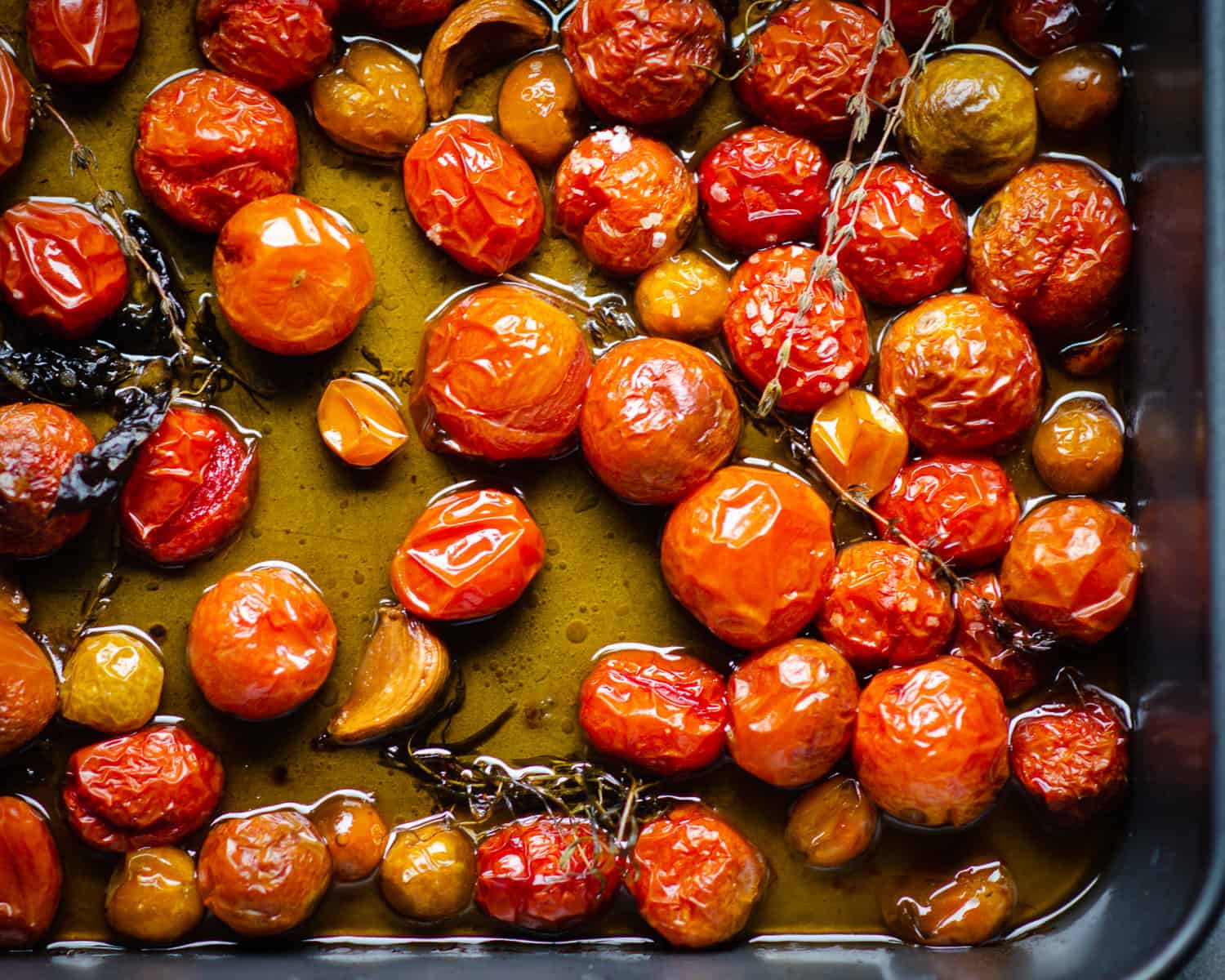 The toughest part about growing tomatoes is the wait. It feels like ages waiting for those green fruits to ripen. As a home gardener, I know that feeling of waiting and then all of a sudden waking up to what feels like a sprint to harvest, cook, share and even preserve an abundance of juicy, homegrown tomatoes.
This year I feel blessed to have had a very productive harvest of tomatoes so far. I planted several different varieties of cherry tomatoes including Midnight Snacks and Sungolds. Lately one of my favorite ways to cook my cherry tomatoes is by making tomato confit.
What is Confit?
The word confit is pronounced "kan-FEE". Confit basically means to preserve food by cooking it slowly in a fat. This method is different from deep frying because it involves adding a cold fat or oil to a food and then raising it's temperature slowly.
For example, in this recipe I cover the tomatoes with cold olive oil and bake them at a low temperature for several hours. The goal of confit is to cook low and slow.
To learn more about the confit technique, check out this article by Master Class.
How to Make Tomato Confit
Mise En Place
3 Pints Cherry tomatoes– No need to slice, just rinse and dry
1 Cup of Olive Oil
Fresh herbs – I used about 8 basil leaves, 4 sprigs of tarragon, and 8 sprigs of thyme
4 Garlic cloves- peeled, left whole
1/2 teaspoon Kosher salt
In a baking dish, place the tomatoes and garlic in a single layer.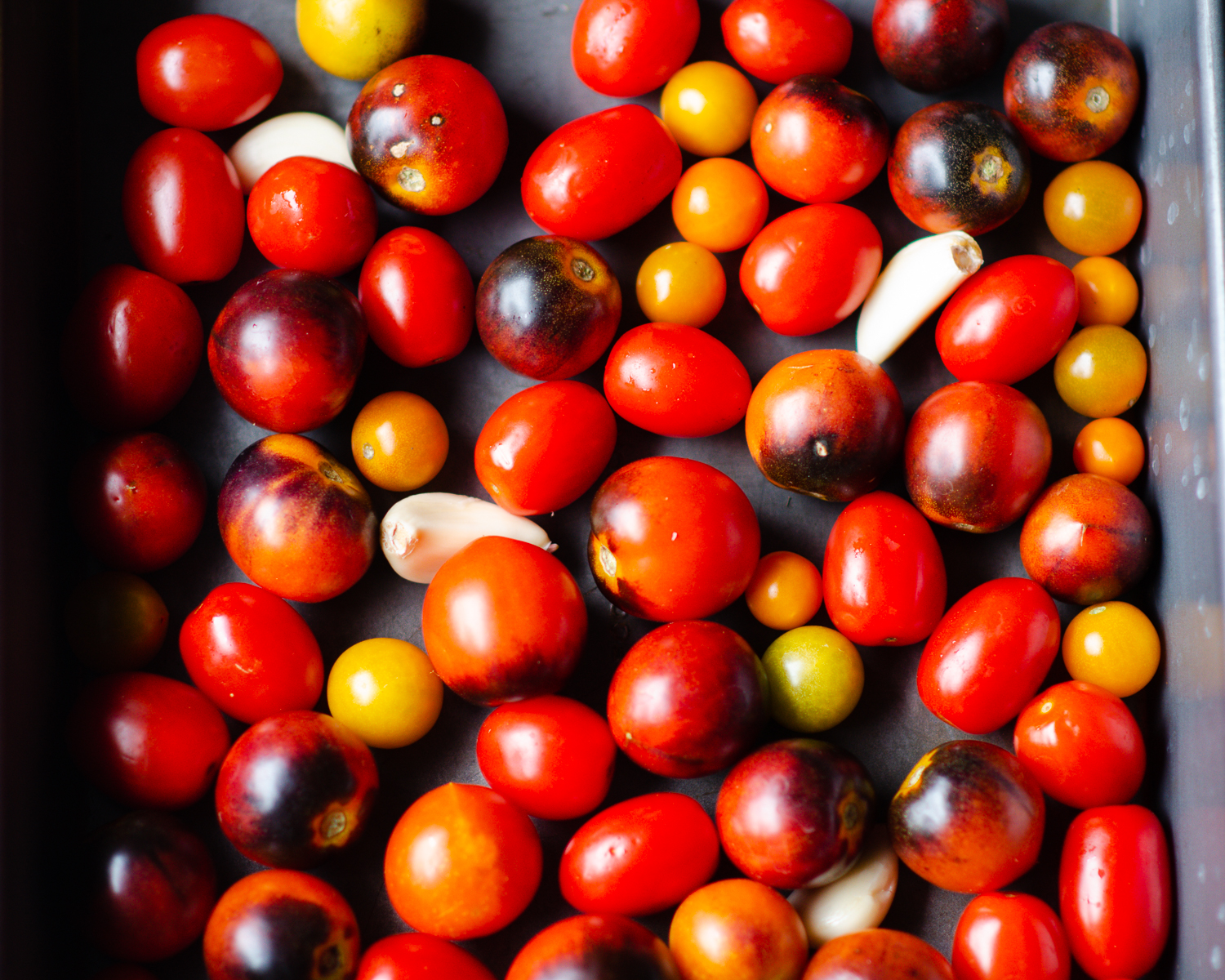 2. Nestle the herbs between the tomatoes.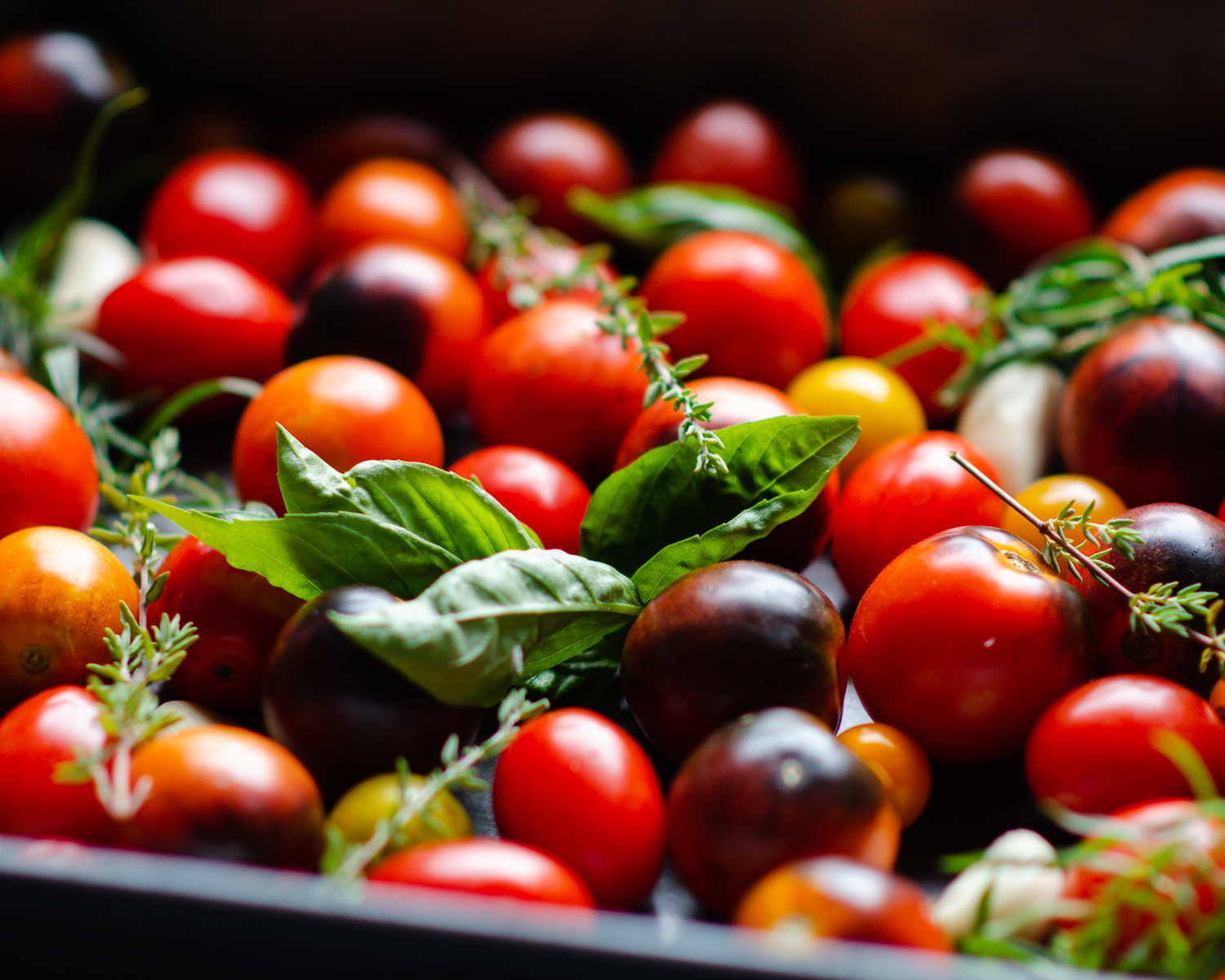 3. Pour olive oil over the tomatoes.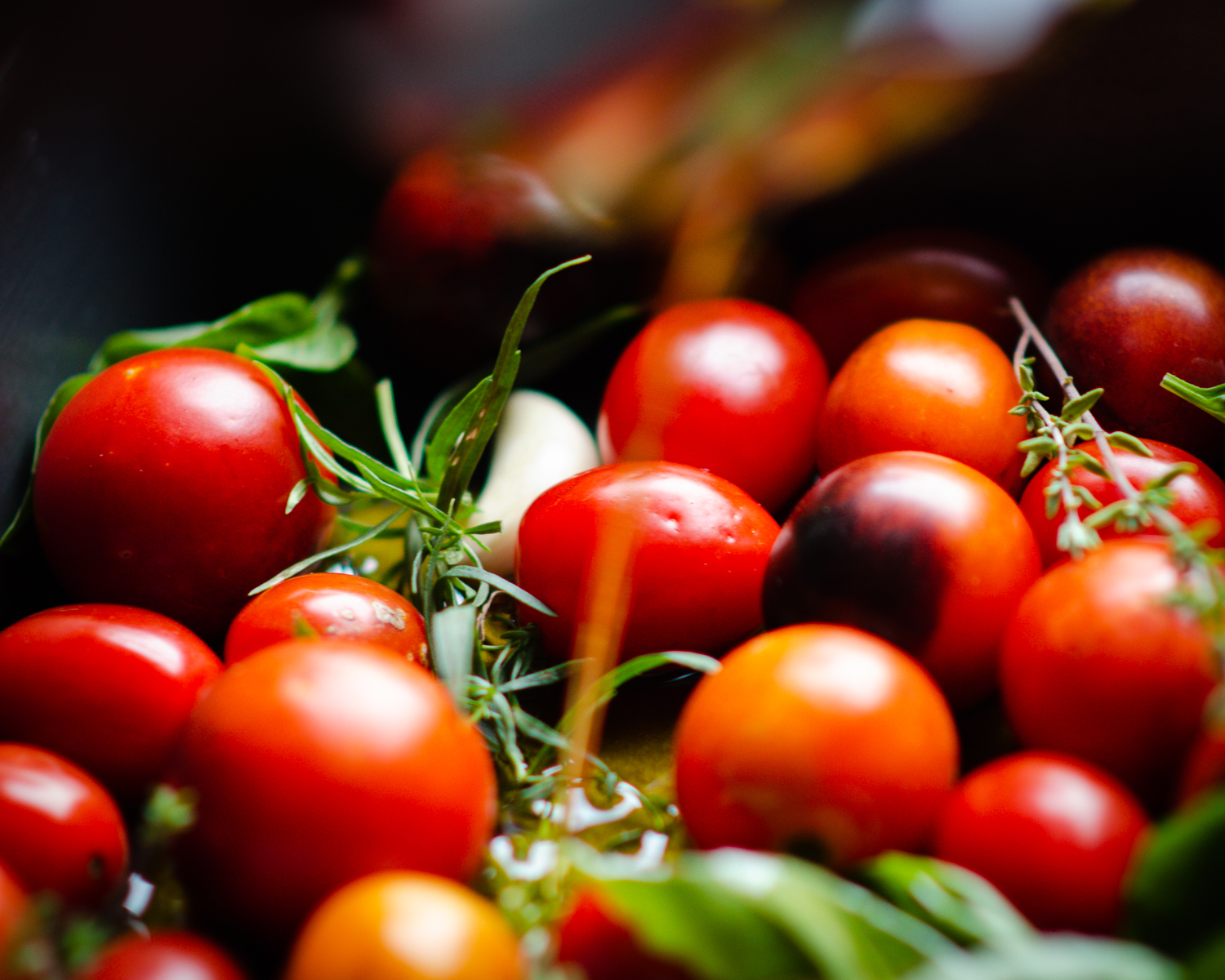 4. Season the tomatoes generously with Kosher salt.
5. Bake in a 275 degree F oven for about 2 to 2 1/2 hours until the tomatoes have wilted and softened. Discard the herbs.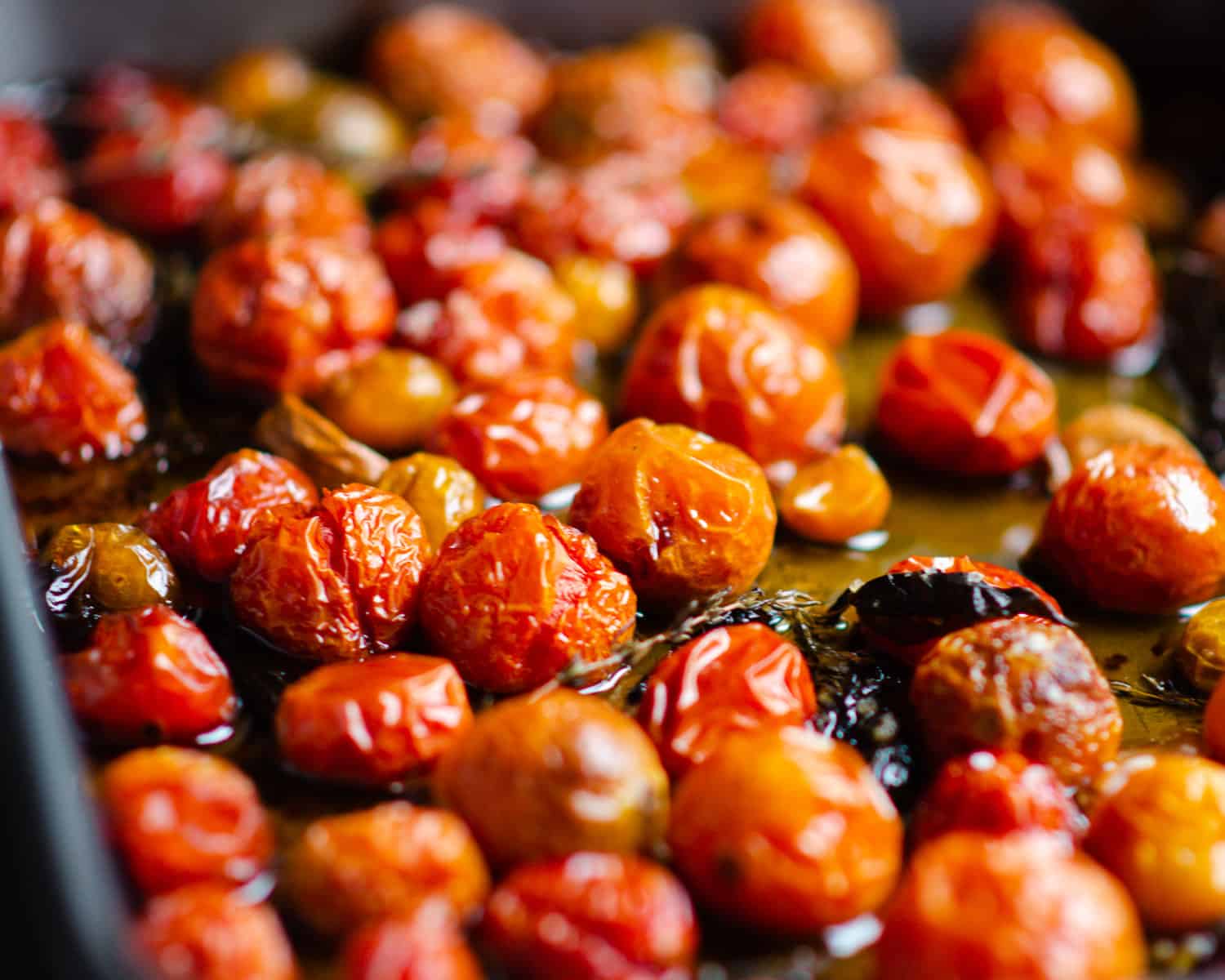 How to Use Tomato Confit
After the tomato confit is done, you can use it in a meal while it is warm. For example, you can spoon it over cooked pasta as a sauce. Otherwise, let the tomatoes cool and transfer for to a jar, cover with the pan oil and refrigerate.
It is important to fill the jar with the remaining oil because it helps preserve the tomatoes longer. The oil prevents air from spoiling the tomatoes.
I kept my last jar of tomato confit refrigerated in a mason jar for about a week. I drained the oil and added it to risotto. It was incredible!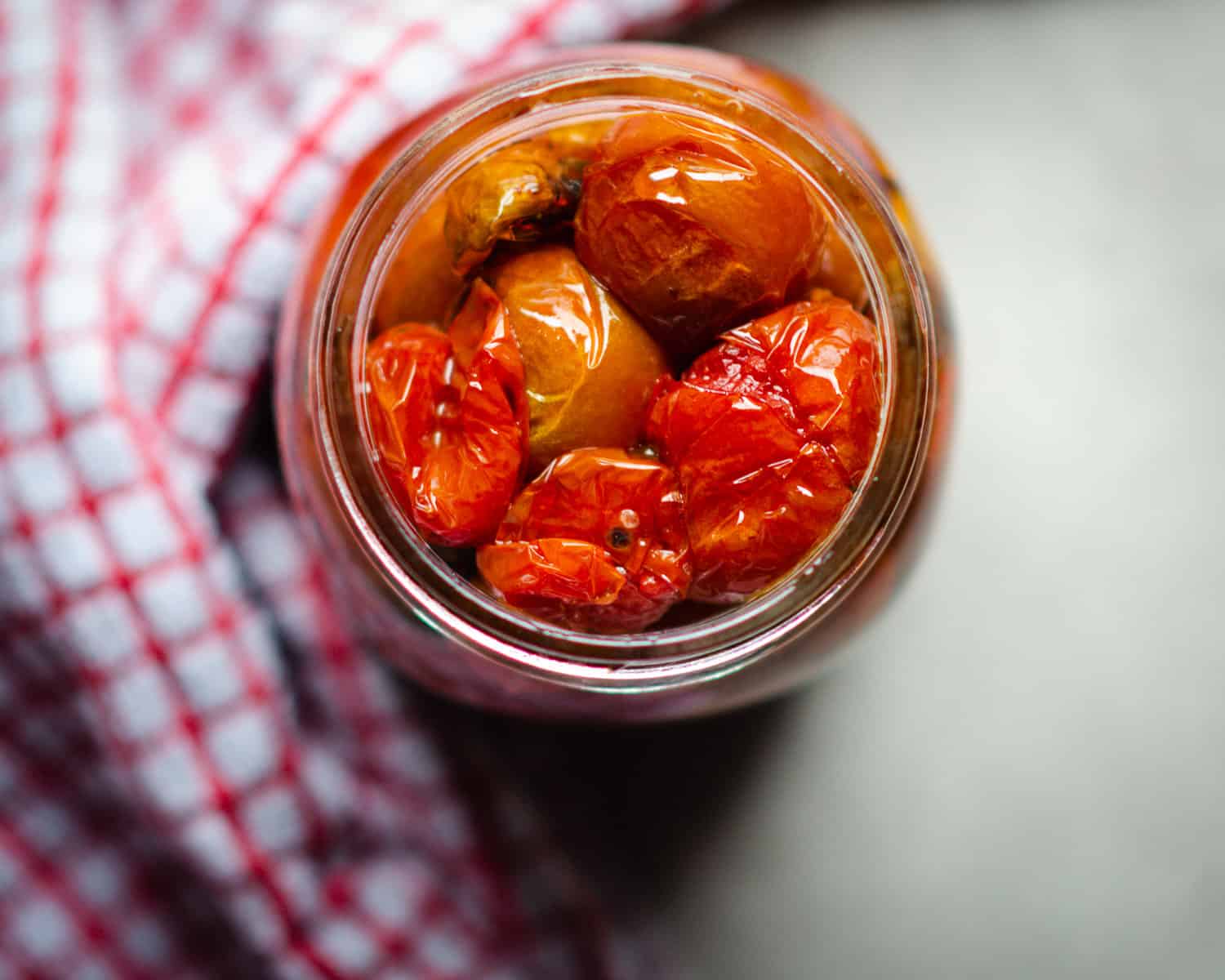 If you choose to refrigerate, you'll need to let the jar come to room temperature because the oil will solidify. You may choose to drain the oil from the tomatoes, depending on how you plan to cook with them.
Ways to serve or cook with tomato confit:
Toss it in your favorite pasta
Spoon over hummus
Top on a steak
Scoop on toast or eggs for breakfast
Use as a pizza topping
All in All
I think this is an easy and delicious way to preserve tomatoes. The tomatoes are packed with flavor because of the slow cooking and immersion of the herbs and garlic. You can always play around with different herb combos to your preference.
I hope you all enjoy this recipe as much as I do!
Other tomato recipes you will like: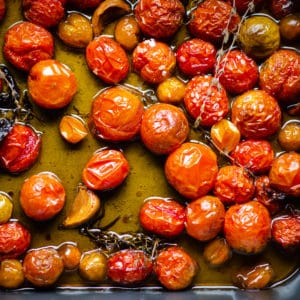 Tomato Confit
Ingredients
3

Pints

Cherry tomatoes

whole

4

Cloves

Garlic

Peeled, Whole

8

Basil Leaves

8

sprigs

Thyme

fresh

4

sprigs

Tarragon

fresh

1

Cup

Olive Oil

1/2

Teaspoon

Kosher salt

fresh
Instructions
Preheat oven to 275 degrees F. Place tomatoes and garlic in a single layer into a baking dish. Nestle herbs in between tomatoes.

Pour oil over tomatoes, herbs and garlic. Season with salt.

Bake for 2 to 2 1/2 hours until tomatoes are wilted. Discard the herbs.