Whipped feta has, by far, been my favorite dish of the summer. The blend of salty feta cheese and fresh herbs from my garden was soul-satisfying! This recipe is my lemony and herb filled version. It's simple to make and takes little time to prepare.
Uses for Whipped Feta Spread
This spread was a great way of leveling up my morning toast. I found myself spreading it on toasted bread and then topping with fresh heirloom tomatoes. I also topped made a toast combo of whipped feta, scrambled eggs, and diced tomatoes.
Mise En Place
1 8 oz Block of Feta Cheese
4 ounces of Cream Cheese – Bring to Room Temperature
Olive Oil
Lemon Juice
Chopped Herbs
Salt and Pepper
How to Make Lemony Whipped Feta Spread
I started by pulsing feta cheese chunks in the food processor with the metal blade attachment. I pulsed 8-10 times until the feta resembled small, coarse crumbles.
Next, I added in the softened cream cheese, olive oil, and lemon juice. I pureed the ingredients for about 3-4 minutes until blended and creamy. About half way through, I turned off the processor to scrape down the sides of the bowl. I also had a small taste to gauge how much seasoning to add since feta is naturally pretty salty.
Lastly, I added in chopped herbs and my desired amount of salt and pepper.
I pureed for about 1 one additional minute and then served along side crackers. I also garnished with a sprig of basil and freshly cracked pepper.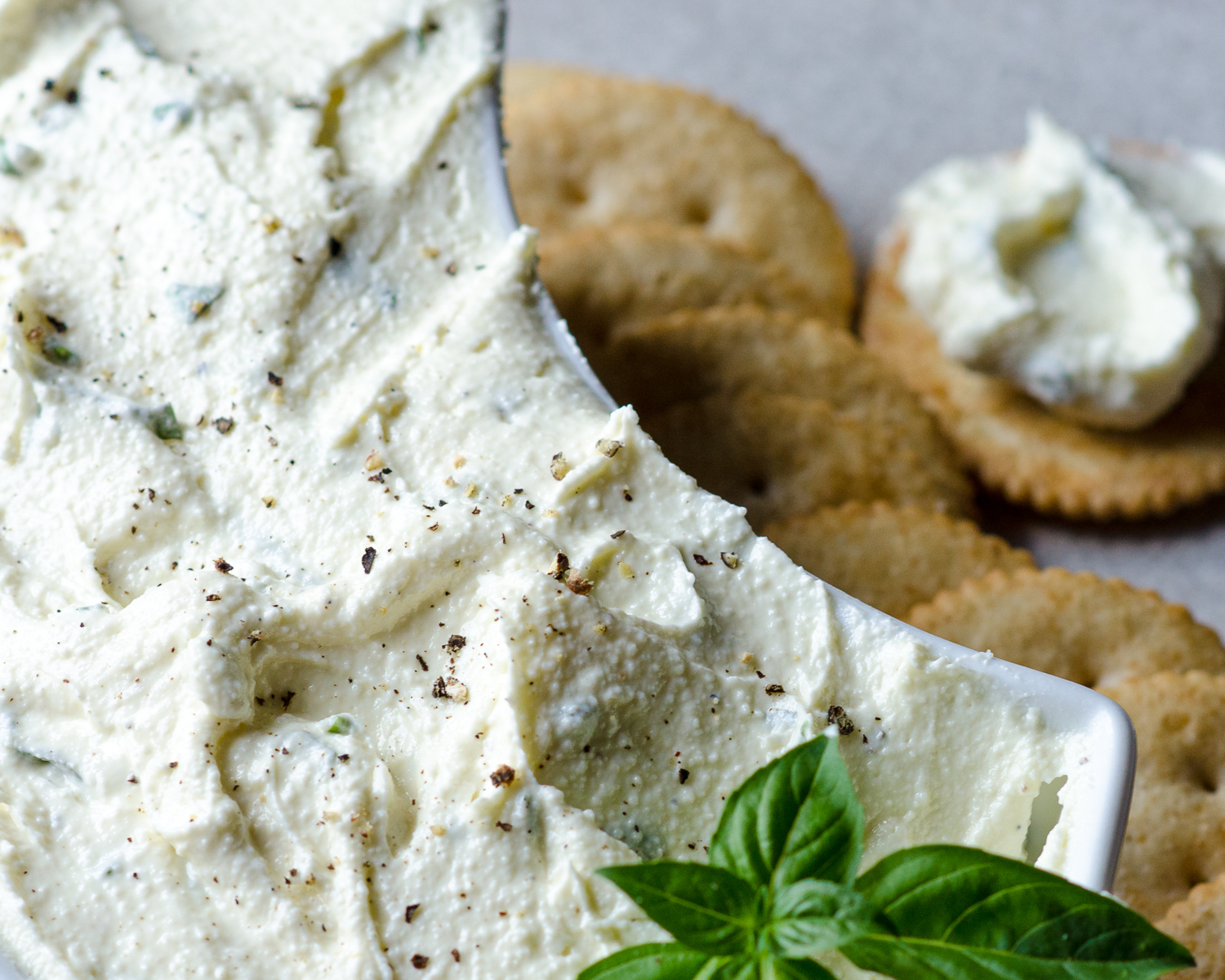 Cooking Notes
I found it easier and quicker to blend the cheeses when the cream cheese was at room temperature.
If you feel your mixture is too thick, add a few teaspoons more of olive oil and blend.
If you refrigerate the leftovers, the mixture will solidify slightly. It helps to let the leftovers come back to room temp and then whisk for a few minutes.
The spread kept well in an air-tight container for about three days.
All in All
This is a versatile spread that is perfect for topping buttery crackers to dressing up toast. I love that I have a new recipe to incorporate the herbs and vegetables that I am growing in my own backyard. I hope you try this recipe out and enjoy it as much as I have all summer.
What kinds of dishes would you use this lemony whipped feta for?
Other dip/spread recipes you will enjoy:
Baked Spinach, Artichoke and Feta Dip – CLICK HERE
Herbed Ricotta Spread – CLICK HERE
Roasted Tomato Salsa – CLICK HERE
Lemony Whipped Feta Dip
Ingredients
4

Ounces

Cream Cheese

Room Temperature

8

Ounces

Feta Cheese

Block broken into chunks

2

Teaspoons

lemon juice

1/4

Cup

extra virgin olive oil

2-3

Teaspoons

Chopped Fresh Herbs

I used chives, parsley and basil

salt and pepper (to taste)
Instructions
In a food processor with, pulse feta cheese chunks 8-10 times until it resembles small, coarse crumbles.

Add in cream cheese, olive oil and lemon juice. Puree for about 3-4 minutes until blended and creamy. Scrape down sides if needed. Add in chopped herbs and desired amount of salt and pepper. Puree for 1 more minute.

Transfer dip into a bowl and garnish with fresh cracked pepper and springs of herbs. Serve with chopped vegetables, pretzels, crackers, etc.
Notes
Dip can also be used as a delicious spread on toast, bagels, and crackers. If you refrigerate the dip, it will solidify. You'll need to bring it back to room temperature again and whisk heavily.