Bourbon lovers, rejoice! Here's a way to enjoy your favorite spirit that you may not have considered before: in whipped cream form. That's right, bourbon whipped cream is the perfect addition to any dessert or cocktail that needs a little extra kick. Whether you're looking to add some flavor to your coffee or top off a slice of pie, this sweet and boozy treat is sure to satisfy you and your guests.
So grab your mixer and let's get whipping!
This whipped cream is so easy to make. Homemade whipped cream is delicious and very quick to whip together- no pun intended. Of course, you could keep an aerosol can in the fridge or some whipped topping in the freezer, but there's just something about making it yourself that is satisfying and fun- plus that other stuff isn't real whipped cream.
What Brand of Bourbon to Use
Adding a little bourbon really takes such a simple recipe up a notch! Of course, being a Kentucky girl, I chose a local bourbon to add to my whipped cream. I most often use a tablespoon of Buffalo Trace which is distilled in Frankfort, Kentucky.
You can use whichever brand of bourbon you prefer!
History of Whipped Cream
Whipped cream is believed to have originated in the 16th century. According to Food & Wine, both France and Italy had terms for whipped cream that translate to "milk snow." Also, there are recipes from the 19th century that refer to using a willow branch to whip the cream before the modern whisk debuted.
Tips for making homemade whipped cream
Freeze the bowl and whisk first- Cream will only whip if under 50 degrees F. I think the cold bowl helps keep the cream cool while whipping and speeds up the process.
Used chilled cream, never room temperature.
Start your mixer slowly and then increase the speed to avoid splattering cream everywhere.
As far as yield, one cup of whipping cream usually makes you 2 cups of whipped cream.
The process for making this Whipped Cream
Making my bourbon whipped cream is simple. I start by freezing my metal mixing bowl and whisk attachment in the freezer for at least 15 minutes. I then add all of the ingredients to the bowl and start the speed off slow for just a minute until the cream slightly thickens. I then jump the speed to very high until soft to medium peaks form, depending on preference. It doesn't take long for the whipped cream to form, so I don't even walkway. I watch it closely to avoid over-whipping the cream and turning it into butter. I serve immediately and keep any extra in the fridge covered for up to one day.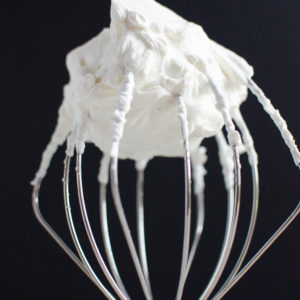 Bourbon Whipped Cream
Ingredients
1

Cup

Heavy Whipping Cream

1

teaspoon

White granulated sugar

1

Tablespoon

Bourbon

I used Buffalo Trace
Instructions
Prep mixing bowl and whisk attachment or beaters by placing in a freezer for at least 15 minutes.

Remove bowl and whisk from the freezer. Add all ingredients and whisk at high speed until soft peaks form into whipped cream. Serve immediately.