Using compound butter in a dish can really take it up a notch or two when it comes to flavor! And, who doesn't love a flavorful meal? In this post, I'll share 3 of my favorite compound butter combinations- one sweet, one savory, and one spicy.
Each combo starts with the same amount of unsalted butter. You'll also find helpful tips for portioning and freezing these recipes.
Jump to Recipe
What is compound butter?
Compound butter is softened butter that has been seasoned with aromatics such as herbs or spices. It can also be flavored with vegetables such as shallots or garlic. Some variations around the world include ingredients such as anchovies, caviar or nuts.
Compound butter can also be called 'herb butter' or in French, 'beurre compose'.
It is a great butter to keep in the fridge or freezer. Anytime you want to quickly enrich a dish, compound butter is an easy ingredient to add in while cooking. It can also be served along side a meal for you and your guest to use as a condiment.
Ways to use compound butter
There are countless combinations of ingredients you can use to flavor a compound butter. No matter what you choose, it is simple to make. Here are a few ways to use and/or serve compound butter:
Serve table-side for topping bread, rolls or biscuits
Spread on waffles or pancakes
Top on steaks
Flavor fish or lobster tails
Melt over hot pasta
Add to a baked potato or baked sweet potato
Melt into freshly steamed vegetables like asparagus
Melt over popcorn
Spread on flatbread
Spread on toast
Melt in pan before cooking eggs
Spread on a bagel
Stir into oatmeal or grits
Stuff under the skin of chicken or other poultry before roasting
Lately, I've used my compound butter to easily season my salmon filets. I simply take a frozen pat(s) of butter from the freezer and place it on my filet. Then I place the fish in the oven to bake. About half way through cooking, I like to ensure the ingredients in the compound butter is spreading evenly over the salmon. If it isn't, I just take a butter knife or spatula and spread it out a bit.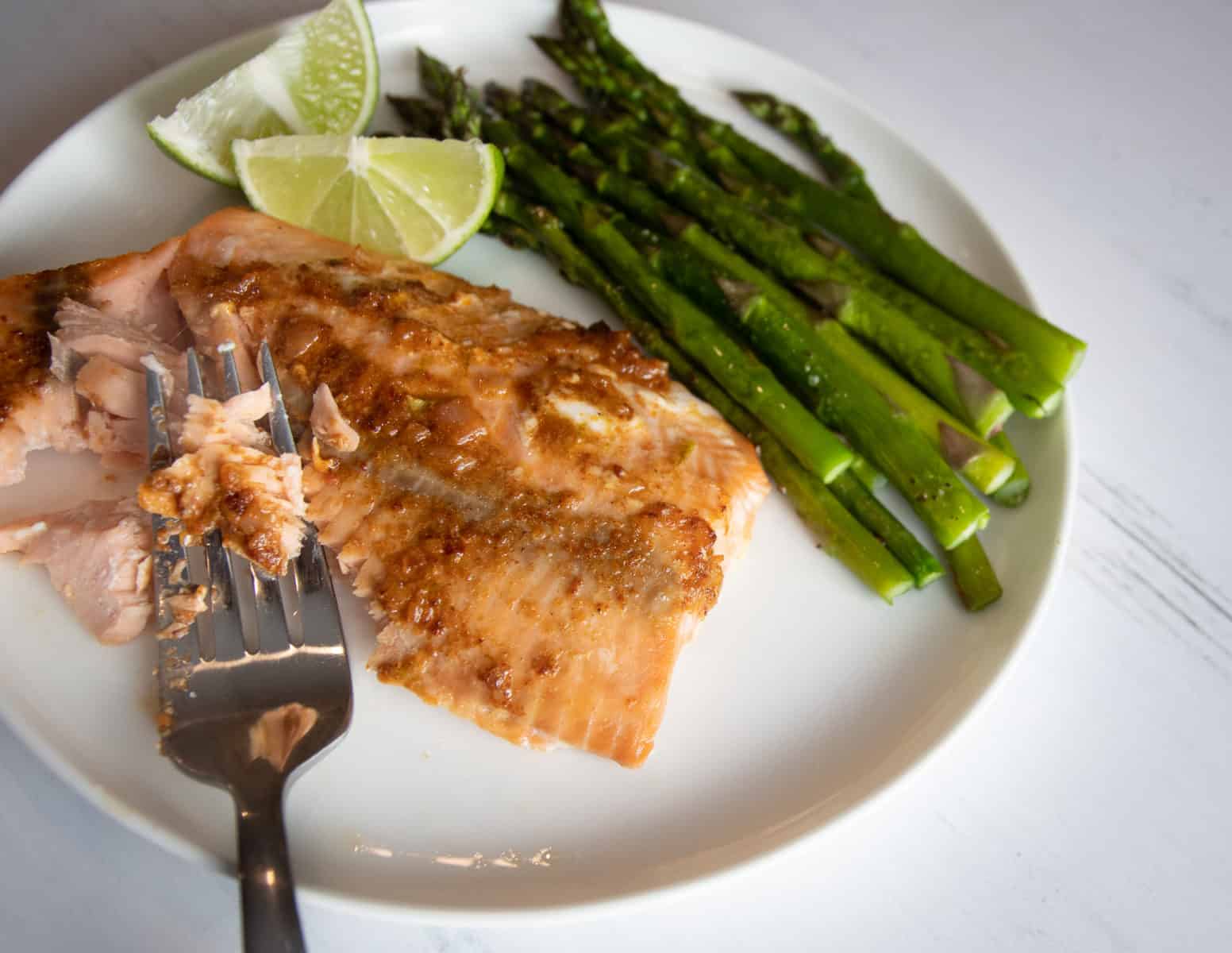 Which flavor combos to consider
Harissa, Shallot & Lime
This flavor combo in one of my favorites! It's spicy thanks to the harissa seasoning, yet the lime adds a little acidity that pairs well with the richness of the butter. You may enjoy this compound butter on fish such as salmon, steak or even melt a little in a pan as you make eggs for breakfast- either way this combo adds a satisfying punch of flavor if you like heat.
Mise En Place:
2 sticks (16 tablespoons) Unsalted Butter – At Room Temperature
Harissa seasoning blend
Small shallot – minced
Zest of one small lime
Salt to taste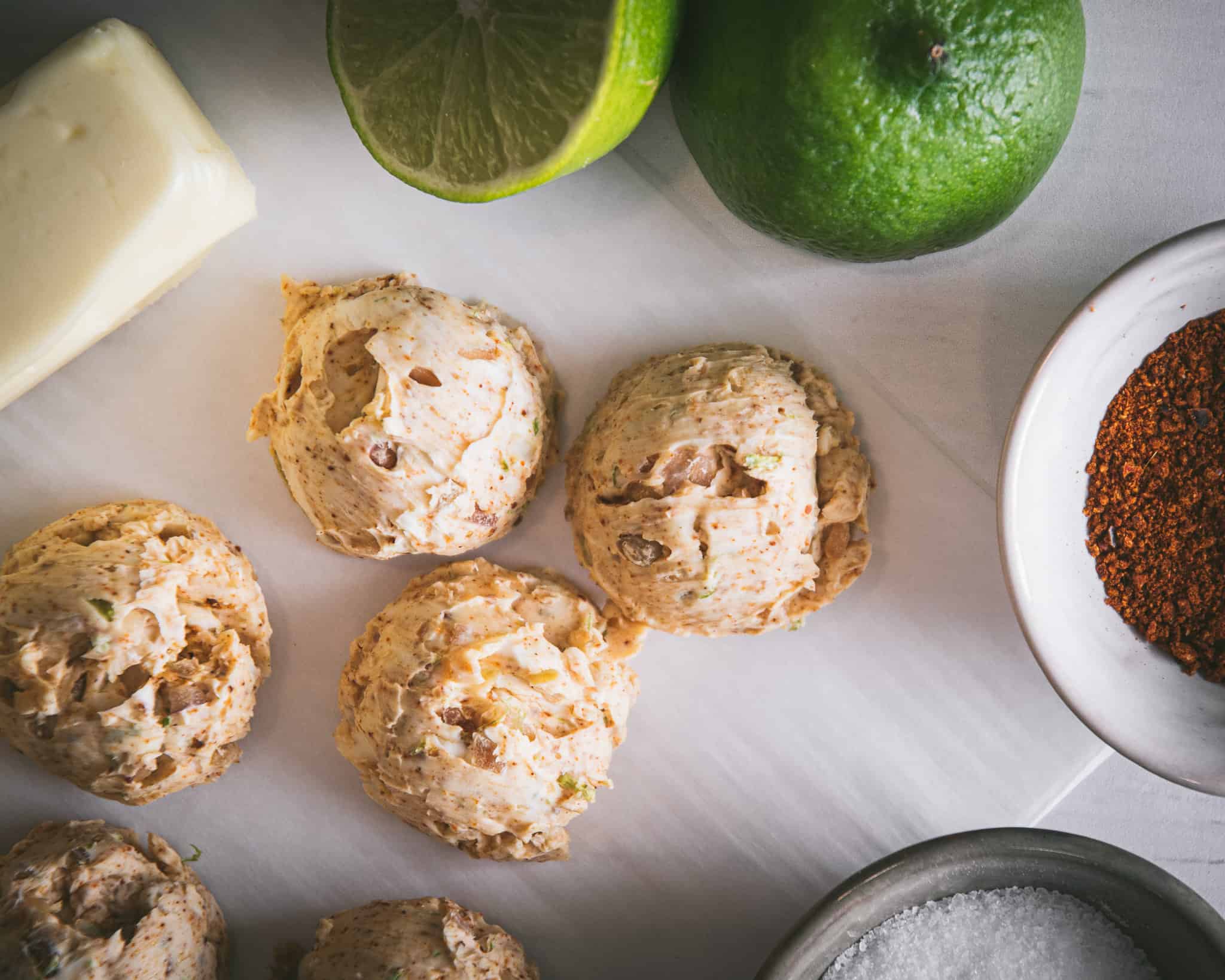 Orange, Honey and Sea Salt
I highly suggest trying this compound butter on warm biscuits. It's slightly sweet and salty. The orange zest gives it a brightness that would impress guests at brunch. You could even use it to flavor your oatmeal.
Mise En Place
2 sticks (16 tablespoons) Unsalted Butter – At Room Temperature
Orange Zest
Honey
Fine Sea Salt
Parsley, Shallot and Truffle Oil
You can't go wrong with using this combo on bread or a perfectly pan seared steak. It's savory and the addition of truffle oil adds a richness and umami taste that I personally love.
Mise En Place
2 sticks (16 tablespoons) Unsalted Butter – At Room Temperature
Fresh Parsley
Small shallot – minced
White Truffle Oil
Salt and/or pepper to taste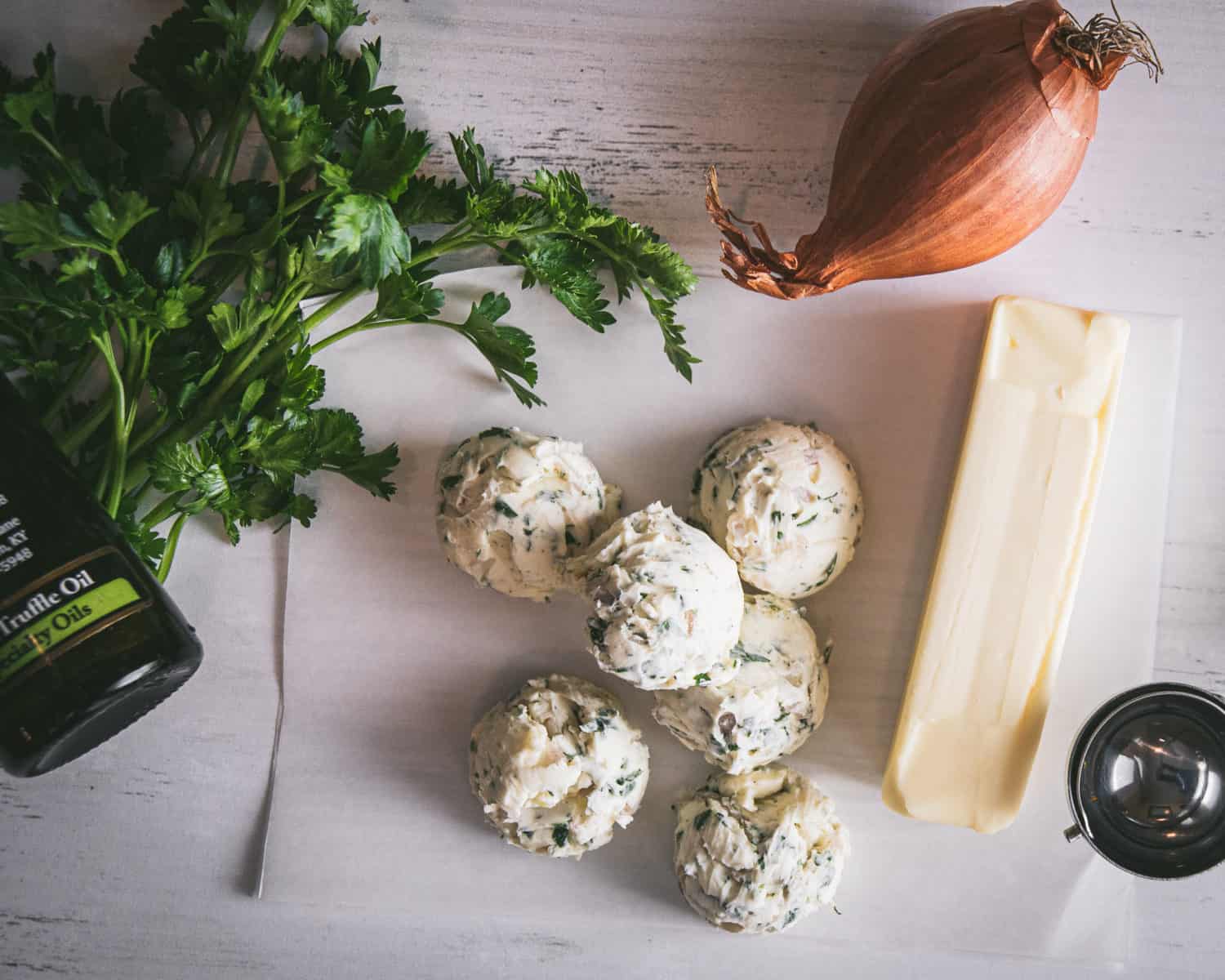 How to portion and freeze compound butter
While some cooks prefer rolling their butter into a log, I personally prefer to portion out my butter using a cookie dough scoop. Using the scoop is easy to do and guarantees equal portions. This also means less hands on the butter- and less melting along the way.
HERE'S WHAT TO DO:
1. Start by lining a baking sheet with parchment paper.
2. After combining your butter with preferred ingredients, place butter back in the refrigerator for 2-3 minutes. This is enough time to slightly firm it for easy scooping, but not solidify it.
3. Using your cookie scooper, scoop out mounds of butter onto the parchment paper. Be sure each mound is NOT touching.
4. When you are finished portioning the butter, place the baking sheet in the freezer. Next, allow the butter to freeze for at least 4 hours.
5. Once butter is frozen solid, remove from the cookie and quickly place in freezer bags or a freezer safe container. Lastly, return the butter to the freezer until you are ready to use for cooking.
My top 5 tips for making any compound butter
Finely chop herbs or vegetables before combining with butter.
Use butter that is room temperature for easy mixing.
If adding liquids such as wine or lemon juice, add very small quantities at a time.
Use unsalted butter to have the best control over saltiness.
Create your own variations! Experiment by mixing your favorite ingredients to create a flavorful combo. Adjust amounts to meet your preferences.
All in All
Keeping compound butter on hand is helpful. You can easily grab a few pats of butter from the fridge to enhance almost any dish you are cooking or about to serve. I also love that the flavor combinations are endless! Creating different combos is fun and simple to do.
Be sure to Pin this post for later!
Here's the Recipe Card with notes…
Compound Butter (3 variations)
Ingredients
Harissa Spiced Compound Butter
2

sticks

Unsalted butter

room temperature

4

tsp

harissa seasoning blend

1

small

shallot

about 2 tablespoons

1/4

tsp

fine sea salt

or to taste
Parsley, Shallot & Truffle Oil Compound Butter
2

sticks

Unsalted butter

room temperature

2

tbsp

fresh parsley

finely chopped

1

tsp

white truffle oil

1/4

tsp

fine sea salt

or to taste

1/8

tsp

ground black pepper

or to taste
Orange & Honey Compound Butter
2

sticks

Unsalted butter

room temperature

zest of one small orange

1/8

cup

honey

1/8

tsp

fine sea salt

or to taste
Instructions
In a large bowl, stir together softened butter and ingredients until combined.

Serve or chill until needed.
Notes
Store in an air tight container for up to one week in refrigerator. 
If freezing, compound butter will keep for 5-6 months.