This is my experience with cooking boneless lamb shoulder for the first time. Spoiler alert: It was amazing! The recipe calls for braising boneless lamb shoulder in red wine.
Shopped Local
Through a co-worker I discovered that our workplace has an on campus butcher shop. It's an extremely cool hidden gem. I had to check it out!The UK Butcher Shop offers a variety of meats that from animals that are raised locally in the Kentucky. There's even a Facebook page to see what is being sold each week! I went in on a Wednesday and a beautiful piece of boneless lamb shoulder caught my eye.

Although I love the taste of lamb, I debated on buying it. My frugal heart has never paid more than $20 for a cut of meat. But I went for it because, well YOLO and I am on a mission to expand my culinary knowledge. I ended up freezing the lamb because I wasn't sure how to cook it and wanted to do some research to find the perfect recipe.
Braise and Praise
"Always remember: If you are alone in the kitchen and you drop the lamb, you can always just pick it up. Who's going to know." -Julia Child
I searched the internet for "boneless lamb shoulder" and came across a dozens of recipes that required braising the lamb meat slowly in flavorful liquids ranging from wine to beer to broths.

The idea of braising made things a little less intimidating since I know what it means to braise. I have a large dutch oven that I bought on a whim several years ago at Marshall's. I also had wine in the house. So, I decided to make red wine braised lamb over the weekend.

The good humor of Julia child helps too. One of my favorite quotes is "Always remember: If you are alone in the kitchen and you drop the lamb, you can always just pick it up. Who's going to know". It's so important to relax and have good humor in the kitchen.

Thank goodness for Google and Julia Child!

The Process
I adapted this recipe by Foodness Gracious: Slow Cooked Beer-Braised Lamb Shoulder . I I read over the recipe several times to best understand the process and instructions. The author's recipe calls for beer. I used wine instead.
Tip: Find a recipe that uses the exact cut of meat and proportion bought.
*I adapted the recipe based on my preferences and available ingredients in my pantry. Below is my version of wine-braised lamb.
I first prepped my ingredients as I am practicing the art of "mise en place". I first sauteed my aromatics. Next, I browned the lamb and deglazed the pot with wine.
Sidenote: I need to buy wooden utensils to scrape the bottom on my dutch oven without ruining the enamel coating.
After deglazing, I added the broth, carrots and herbs. The dutch oven went into the oven for two hours. Next, I flipped the meat (which smelled heavenly), and cooked slowly for another hour until it was tender enough that it fell apart just from picking it up with tongs.
What I learned
One of my goals for this blog is to learn more about the foods and techniques that I am using.

Lamb shoulder is from the area of the animal that works relatively hard. It has lots of connective tissues.
Lamb shoulder is best cooked slowly (i.e. stew, braise, roast)
It is a fatty cut of meat. Fat adds lots of flavor to the dish, especially when slow-roasted.
Lamb is a "red meat"
After cooking, it is important to let the lamb rest for 10-15 minutes. Resting allows the juices to reabsorb.
Lamb is rich in vitamins such as B12 and zinc.
Sources: https://www.jamieoliver.com/features/ultimate-guide-to-lamb-cuts/https://www.foodnetwork.com/recipes/articles/lamb-guide-and-recipes
The Results
I am pleased with this dish. I served the red wine braised lamb over red skinned mashed potatoes. It was fun taking a chance at cooking a pricey piece of meat for Sunday dinner. My only back up plan was Dominoes Pizza and baby food jars! The perfectly cooked lamb was tender, savory and filling. My one year old enjoyed it too! His curious palate is becoming well-rounded and isn't very picky.
I didn't drop the lamb. If you are wondering.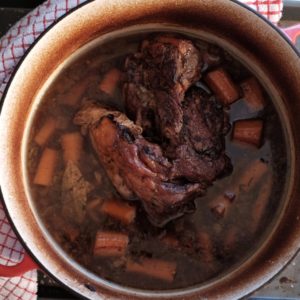 Braised Boneless Lamb Shoulder
Slow cooking the lamb shoulder makes the meat tender and flavorful. The boneless lamb shoulder is braised in red wine, carrots and aromatics. It can be served over roasted or mashed potatoes.
Ingredients
1

3 lb

Boneless lamb shoulder

4

Carrots

Peeled and chopped in large chunks

2

Tablespoons

olive oil

1

Onion

medium, diced

1

Tablespoon

garlic

minced

1

cup

Red Wine

I used Cabernet Sauvignon

1

cup

Beef Broth

1/2

teaspoon

ground thyme

2

Tablespoons

fresh rosemary

chopped

1

pinch

salt

1

pinch

pepper
Instructions
Preheat oven to 325 degrees Fahrenheit.

Heat olive oil in large dutch oven.

While oil is heating, coat lamb with salt, pepper and rosemary.

Add chopped onions to heated oil and saute 2-3 minutes. Add garlic and cook one additional minute until fragrant.

Add lamb and cook until browned on one side (about 3 minutes). Flip and brown other side. Remove meat and vegetables from pan onto a plate temporarily.

Slowly pour wine to dutch oven and reduce heat to low. Scrape brown bits from bottom of pot.

Add meat and vegetables back to pan. Add broth, carrots, and thyme. Turn off heat.

Cover dutch oven with lid. Cook in oven for 2 hours and flip meat. Increase heat to 400 degrees and cook for an additional 1 hour.

When meat reaches desired doneness, remove from oven and shred lightly with fork. If desired, serve with the cooked carrots and/or over potatoes.