A great way to use dinner leftovers: cook up a FRITTATA! This pulled pork frittata is full of flavor thanks to leftover smoked pork, tomatoes, corn, extra sharp white cheddar and onions. You can easily sub out the pork and use leftover pot roast.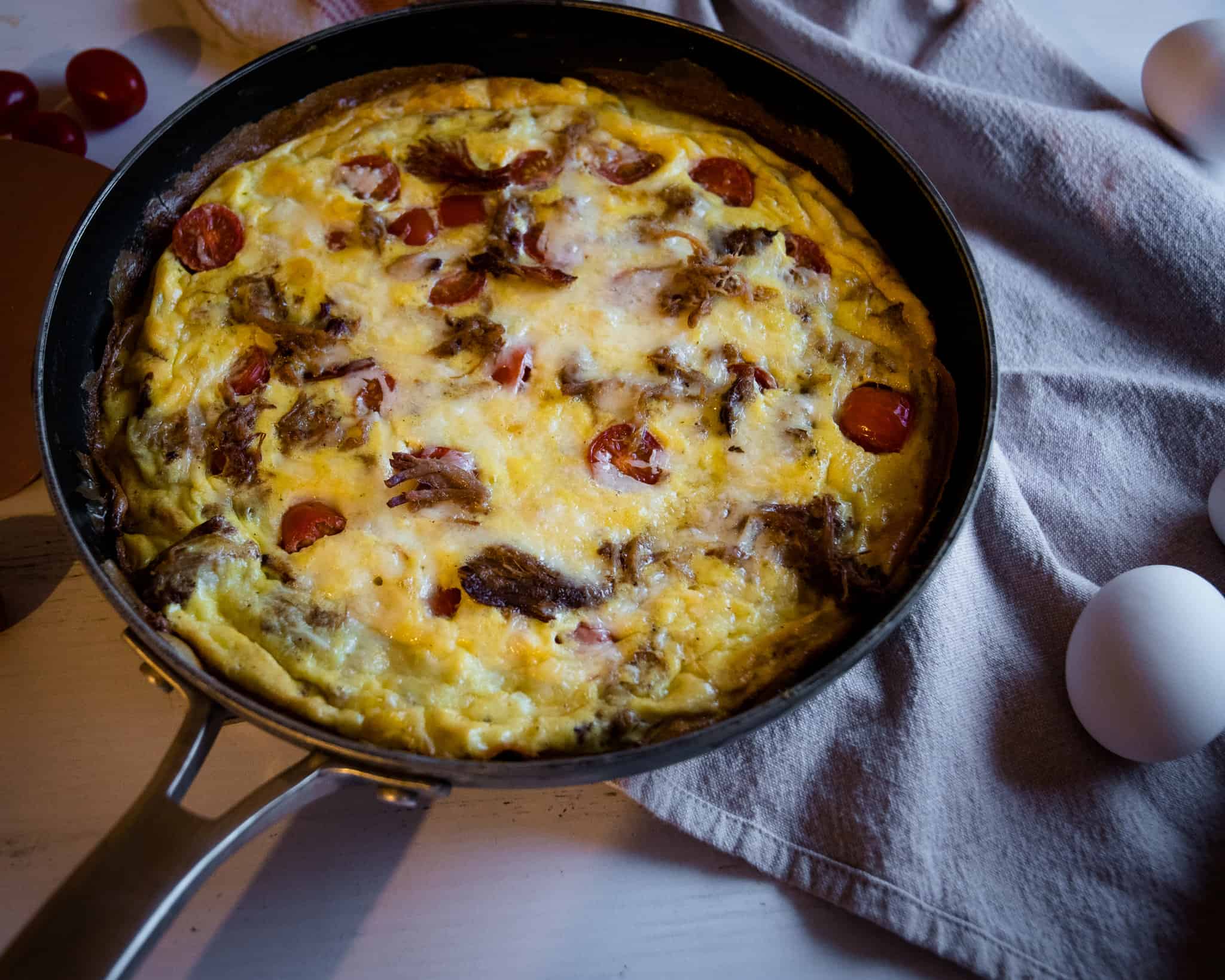 Frittata: The best way to use leftovers!
I have to admit, I am not a huge fan of eating leftovers more than one night in a row. At the same, I don't like to waste food and hope to further reduce my food waste this year. According to Earth.Org, "If 25% of the food currently being lost or wasted globally was saved, it would be enough to feed 870 million people around the world".
My 2022 goal is to push myself to use leftovers in more creative ways- whether that be for lunches, dinner for the family, baby food or even snacks.
So, why a frittata? Frittatas are quick to make and versatile! I knew that I could take the leftover corn and smoked pork from a previous dinner to make a bomb pulled pork frittata. The flavors were incredible and my whole family enjoyed this one!
Side note: Shout out to my husband who has been rocking it out on the grill and smoker lately!!!
The only additional ingredients I added in were eggs, onions, cream and cherry tomatoes- all of which I had on hand. Thanks to my sweet neighbor Amy, I had a block of extra sharp white cheddar that she gave me. I of course added some seasonings to the egg mixture, but it didn't need much because the pork was already very well seasoned.
Here's how to make my pulled pork frittata…
Mise En Place
6 large eggs – use yolks and whites
1/2 cup of heavy cream
1/2 teaspoon sea salt
1/4 teaspoon black pepper
1/4 teaspoon garlic powder
1 cup whole kernel corn – drained well
1/2 an onion (or about 1/2 cup) – diced
cherry tomatoes- halved
1 cup of smoked or pulled pork – shred or chop to desired bite sizes
1 cup (or more) of sharp white cheddar cheese – shredded
1 tablespoon olive oil
Recipe Steps: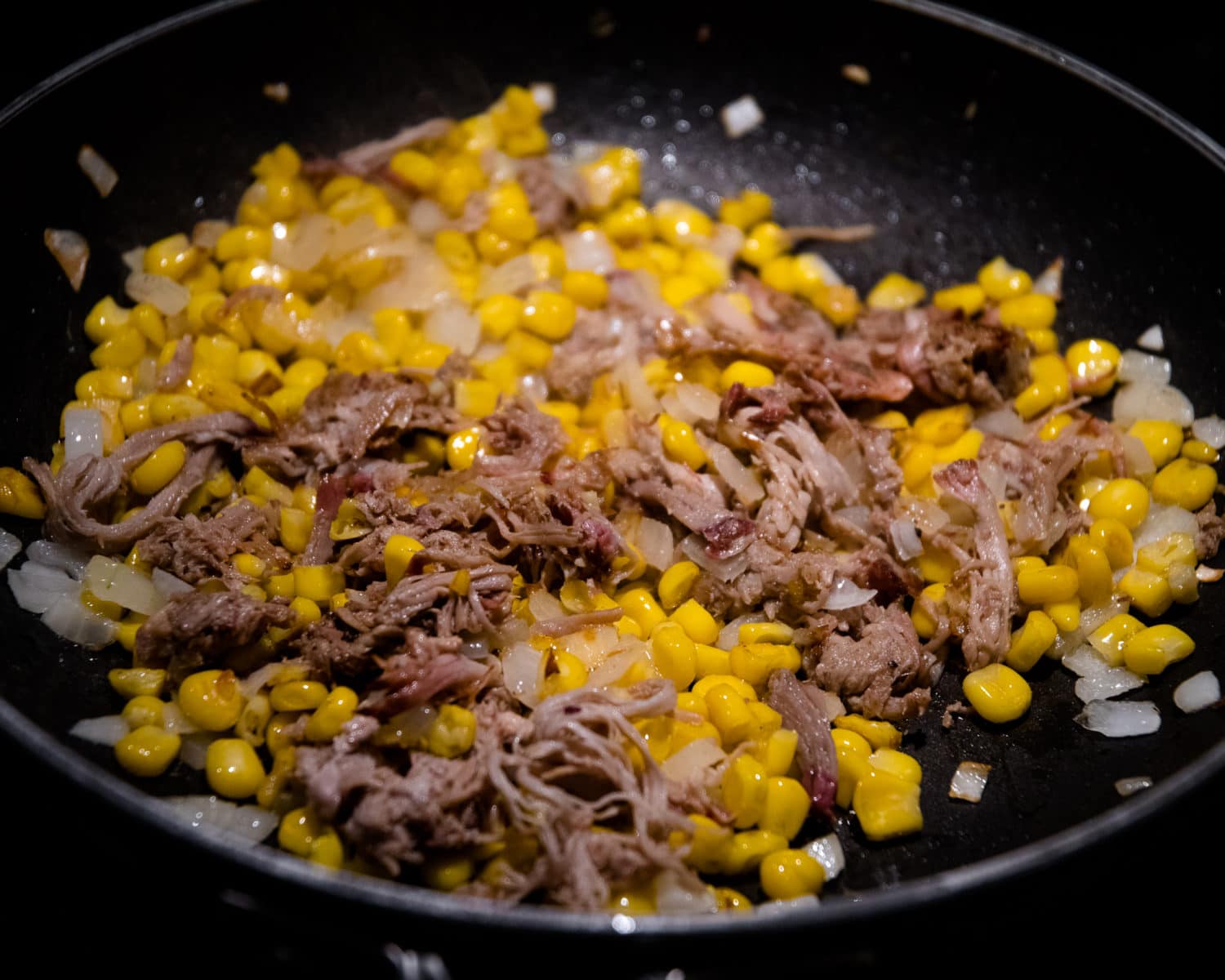 Preheat your oven to 400 degrees Fahrenheit. In a mixing bowl, whisk together the eggs, heavy cream, salt, pepper and garlic powder. Now you'll set aside the egg mixture while you prep the pan for the frittata.
Using an oven proof skillet, heat one tablespoon of olive oil over medium heat. Sauté the diced onions and corn for about 2-3 minutes, stirring frequently. The goal here is to begin softening the onions and cook off any extra liquid on the corn kernels.
Add in your pork and cook an additional 2 minutes to warm the meat through.
Next, pour in the egg mixture. Stir the eggs, vegetables and pork lightly to combine. Allow this to cook for about one additional minute. You'll see the eggs on the edge of the skillet begin to firm up- that's a good sign that it's almost ready for the oven.
Top the cooking egg mixture with your halved tomatoes and shredded cheese. Don't stir. Transfer the skillet to your preheated oven and allow to bake for 10-12 minutes. The eggs will be puffed and cooked through in the center, much like a quiche.
Remove from the oven, slice and serve warm.
Cooking Tips
Use a good non-stick skillet that is oven-proof
Make it your own! Sub in your favorite vegetables such as bell peppers, spinach, mushrooms, or broccoli.
If you pulled pork is from the crockpot, be sure to remove excess liquid or sauce from the meat to ensure the frittata isn't watery.
Don't like pork? Try it with leftover shredded roast beef.
If desired serve with a little BBQ sauce.
Garnish with chopped cilantro, parsley and/or extra cheese.
All in All
Making a frittata out of dinner leftovers is going to be a go-to in my household. It's a fun way to reduce food waste and not get bored with leftovers. I also appreciate the ease, and quickness of this recipe. I hope you enjoy it as much as my family did.
Happy New Year everyone!
Other Her Mise En Place recipes you'll enjoy:
Oven Roasted Beer Brats and Peppers
Roasted Brussel Sprouts and Chicken Quarters
Don't Forget to PIN this recipe for Later…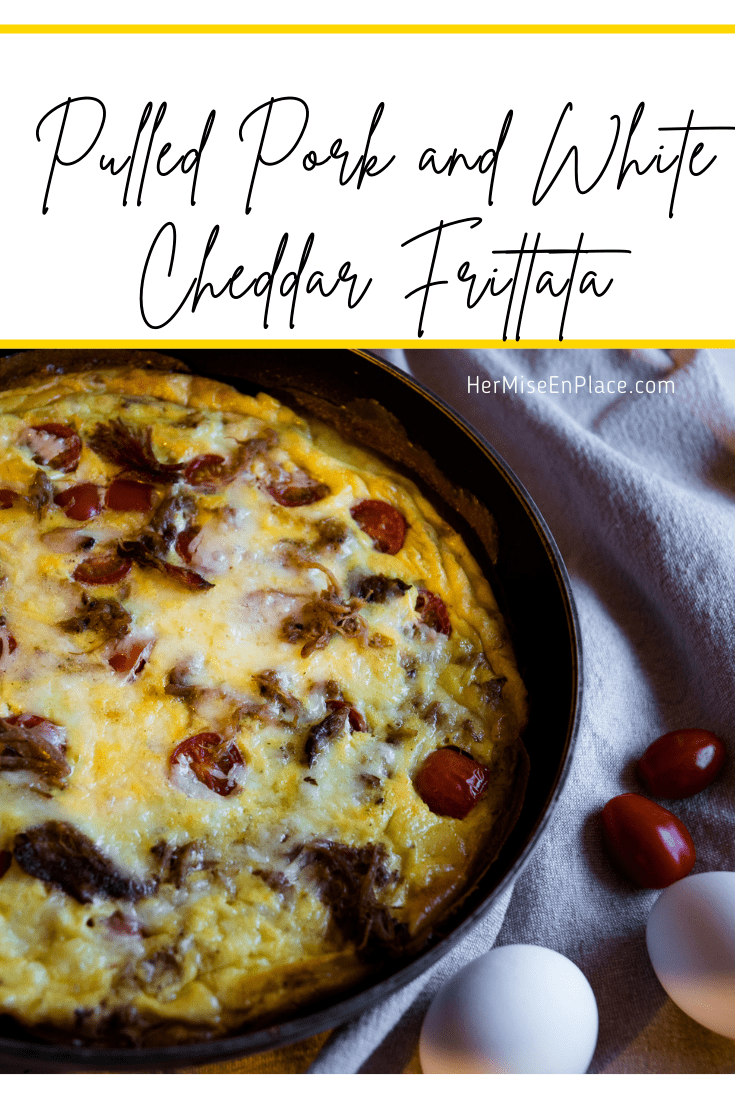 Pulled Pork and White Cheddar Frittata
Ingredients
6

eggs

large, whites and yolks

1/2

cup

heavy cream

1/2

teaspoon

sea salt

1/4

teaspoon

garlic powder

1/4

teaspoon

black pepper

1

cup

whole kernel corn

I used cooked leftovers, drained well and thawed

1/2

cup

onions

diced

12-14

cherry tomatoes

halved

1

cup

smoked pork or pulled pork

I used leftovers, may sub beef roast

1

cup

sharp white cheddar

shredded

1

tbsp

olive oil
Instructions
Preheat oven to 400 degrees F. In a bowl, whisk together eggs, heavy cream, salt, pepper, and onion powder. Set aside while you prepare pan for the frittata.

Heat the olive oil in an oven proof skillet over medium-high heat. Sauté the onions and corn for 2-3 minutes, stirring frequently. Add pork and cook for an additional 2 minutes until onions are starting to become translucent.

Pour egg mixture into the pan with the meat and vegetables. Stir the mixture lightly with a spatula to combine the ingredients and let cook for about 1 minute. Top with tomatoes, cheddar and transfer to the oven.

Bake in the oven for 10-15 minutes until eggs are puffed and the center is cooked through. Remove from the oven, slice and serve warm.
Notes
Good skillet options for frittatas: Cast iron skillets and oven-proof non-stick skillets

Frittatas will "deflate" slightly as they cool

In place of pulled smoked pork, you can use roast beef