This chive and truffle deviled eggs dish is elegant, beautiful, and sure to impress your guests! Fresh chives, mayo, truffle oil, and Dijon mustard are combined with cooked yolks to make a creamy and delicate filling.
What are deviled eggs?
Deviled eggs are made using cold, hard-boiled eggs. Traditionally, the eggs are cut in half, and the yolks are removed. The removed yolks are mixed with creamy ingredients (such as mayonnaise), seasoned, and then used to refill the egg whites. Each finished deviled egg becomes a lovely one or two-bite appetizer or side dish, depending on the occasion.
Here in the Southern United States, I have seen deviled eggs enjoyed in several types of meals. Some enjoy serving deviled eggs at picnics and cookouts. It's also a common side dish for Easter, Christmas, and Fourth of July holiday meals. One of the most traditional fillings includes mixing the egg yolks with mayo, mustard, relish, and seasonings such as salt, pepper, and paprika.
Deviled eggs are an easy-to-make appetizer that is enjoyed throughout the world. It's a dish served cold that dates back to ancient Roman times. According to The North Carolina Egg Association, "boiled eggs were seasoned with spicy sauces and served as the starter of a fancy meal usually made for guests." It was in the 13th century when we'd see boiled eggs stuffed in Spain. Later, Europe picked up the popular recipe in the 15th century, stuffing their eggs with varying ingredients such as raisins and herbs.
Why is it called "deviled"?
According to The Kitchn, deviling food "refers to cooking something 'with fiery hot spices or condiment.'" The term appeared around the 18th century. However, it is a term that some cultures choose to avoid, and rightfully so.
Throughout history, you can see variations of spices and toppings featured in deviled egg recipes that gave the dish a spicy bite. For example, some eggs are topped with spicy sauces, while others use spices such as cayenne pepper in the filling.
Variations of the word "deviled eggs" across the world
Here are some different terms use that people use to replace "deviled" in the recipe name:
Salad Eggs
Stuffed Eggs
Dressed Eggs
Mimosa Eggs
Potluck Eggs
Angel Eggs
Are there any other variations you've heard? Let me know in the comments! 👇
Chive and Truffle Deviled Eggs are a unique twist on the classic dish.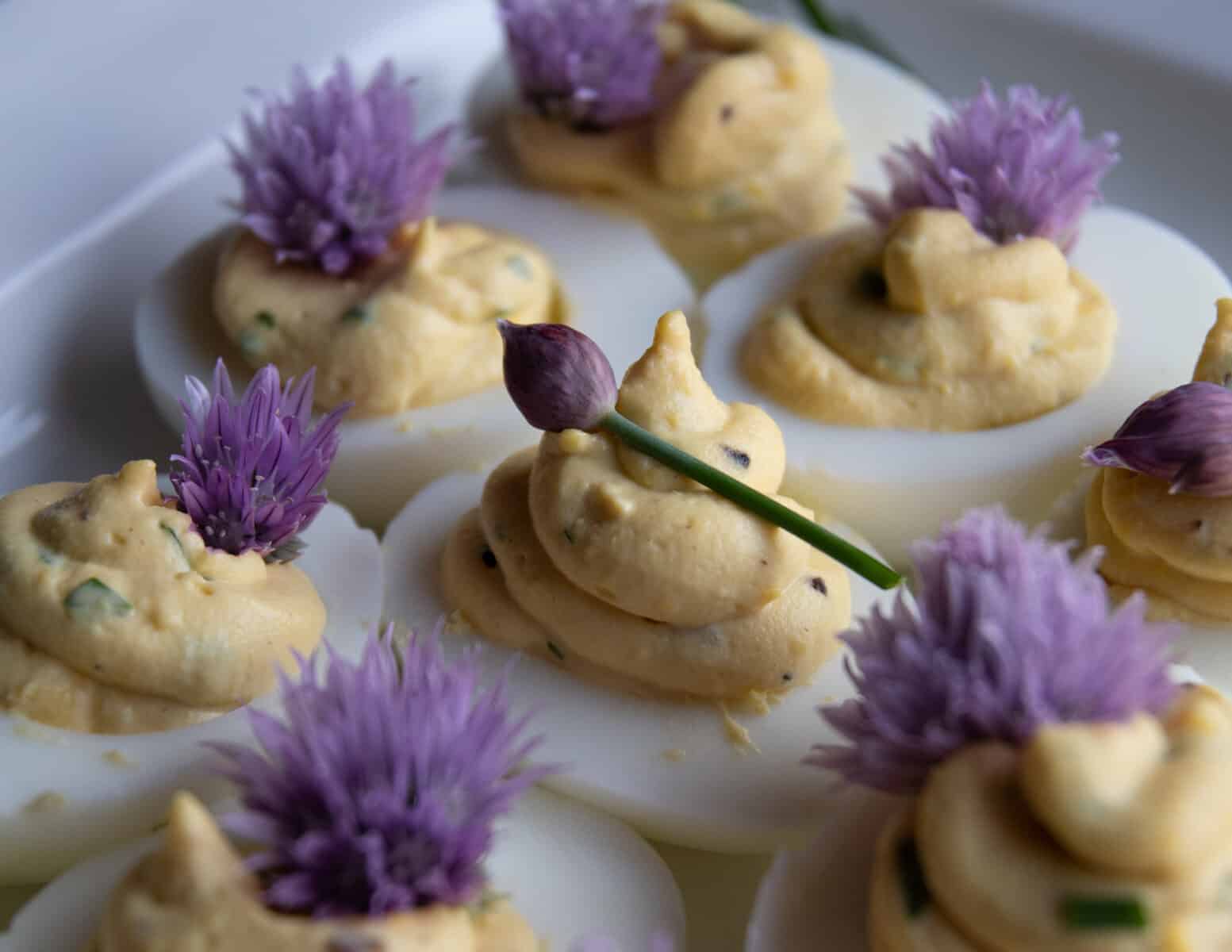 My variation of deviled eggs is not spicy but is a unique twist on traditional southern deviled eggs. The fresh chives and white truffle oil elevate the dish for special occasions. Moreover, topping the eggs with chive blossoms is a lovely way to garnish your dish and impress dinner guests!
Using chives and chive blossoms for garnish
Garlic chives add a mild, onion-like flavor to the deviled egg filling. In place of relish, it gives the filling added texture and color.
The blossoms from garlic chives are edible. Some may choose to remove them, but it still adds a beautiful and unforgettable pop of color to your finished dish. If you're growing chives, the blossoms appear in the early spring when the plant begins to flower. In my area, growing zone 6b, my chives tend to flower from late March to around mid-May.
What type of truffle oil to use in deviled eggs
Using truffle oil in this recipe gives the filling a subtle umami flavor that is elegant and smooth. I prefer using white truffle-infused oil. It is a common staple in my kitchen because it is great for finishing dishes and gives a nice little artisan touch to a meal or snack.
Tip: Be sure not to mix too much truffle oil into the deviled egg mixture for two reasons. You don't want the truffle flavor to overpower the other ingredients. Secondly, too much oil will thin the mixture, making the filling runny and unable to sit in the egg whites.
Eggs and white truffle oil pair very well together. Sometimes I simply drizzle truffle oil over hard-boiled eggs for breakfast and top with flaky sea salt!
All in All
This is one of my favorite appetizers for potlucks and holiday meals. Using fresh chives and their edible blossoms from my backyard garden feels extra special. Plus, I love to use delicious truffle oil any chance I get.
Lastly, chives are a wonderful perennial to grow, and I continuously find unique ways to use them in the kitchen. I hope you find this dish comforting and a creative way to use edible flowers as garnish. Enjoy!
Don't Forget to Save This Recipe For Later: 📌 Pin this today!
Chive and Truffle Deviled Eggs
Impress your guests with these chive and truffle deviled eggs. To add a little extra flair, garnish each deviled egg with an edible chive blossom. from your garden.
Ingredients
6

eggs

hard boiled

1/3

cup

mayonaisse

1

tbsp

Dijon mustard

2

tsp

fresh chives, chopped

1/2

tsp

white truffle oil

salt

to taste
Instructions
Cut each peeled, hard-boiled egg in half. Scoop yolks into a small bowl and set the whites on a plate and refriderate.

With the back of a fork, smash the yolks until coarse and free of lumps. Stir in mayo, mustard and oil until mixture is smooth. If desired, add salt (to taste) and gently fold in chopped chives.

Place yolk mixture in fridge for at least 15 minutes before filling the egg whites.

Using a spoon or piping bag, fill the egg whites with the truffled yolk mixture. Garnish with additional chopped chives or chive blossoms. Serve and enjoy.