I had to shake things up for breakfast lately. Now that we have established a routine (sort of) and have settled in to working from home with a toddler, I have found a little satisfaction in changing up or normal meals. For example, instead of plain ole bacon and eggs, I used some puff pastry in my freezer and staples in my fridge to make these breakfast hand pies.
These hand pies are simple to make. The puff pastry is a great alternative to a biscuit or English muffin. The crust is flaky, buttery and easy to prep. You can easily adjust the filling for your your taste and preference. In my hand pies I used scrambled eggs, crispy crumbled bacon, shredded cheese, and spinach. All of these items were on hand in the fridge.
Here's how I made my Breakfast Hand Pies:
Mise En Place
4 eggs + 1 egg white
1 egg yolk + splash of water for the egg wash
1/4 teaspoon Onion Powder
1/4 teaspoon Smoked Paprika
1/4 teaspoon Garlic Powder
½ cup Frozen Spinach – thawed and drained
½ cup Shredded Sharp Cheddar Cheese
4 strips of Bacon- fried and crumbled
1 sheet of frozen Puff Pastry – thawed
Salt and Pepper to taste
Scramble Eggs
After prepping my ingredients, I whisked together the 4 eggs, one egg white and seasonings. I then cooked scrambled eggs like I normally would for breakfast.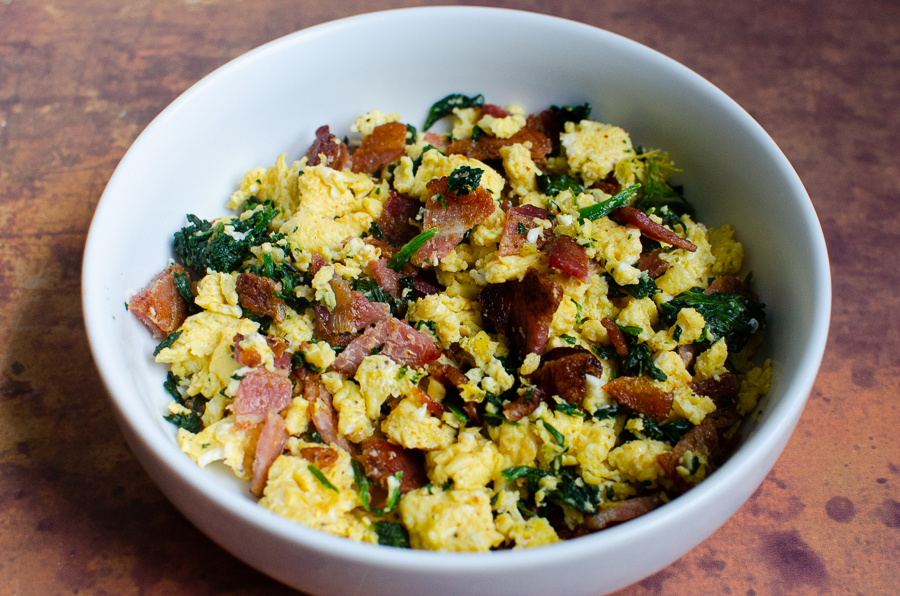 Note: My eggs may look a little overcooked because that's how my toddler eats them. I recommend scrambling your egg to your preference in this recipe. Softer eggs will work just fine.
Prep Pastry and Fill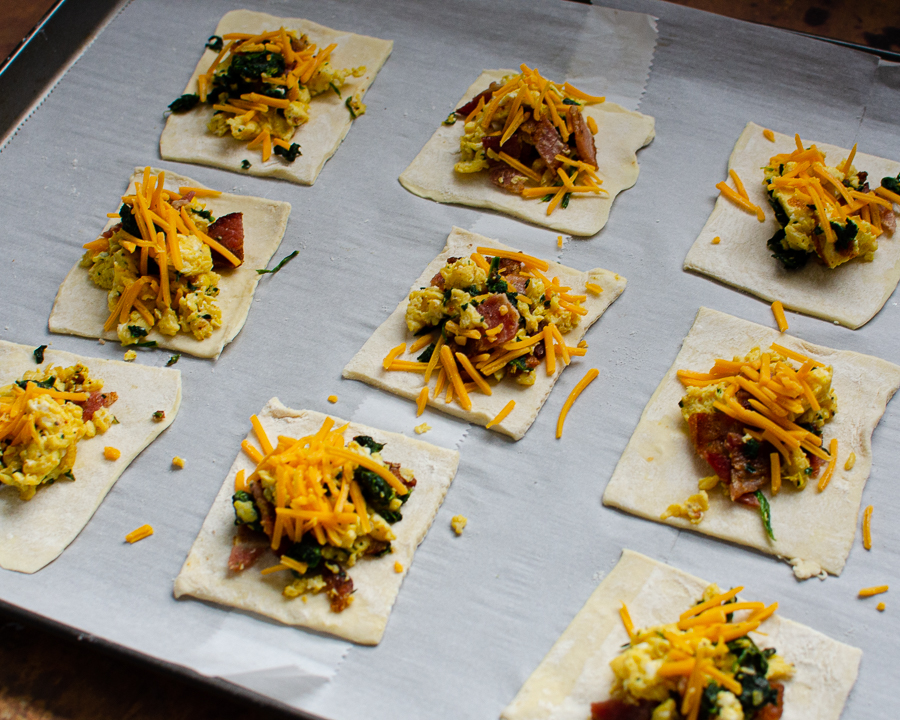 Once my eggs were cooked, I folded the crumbled bacon pieces and spinach in. I set this aside to prep my thawed puff pastry. For the puff pastry, I took a rolling pin and rolled it out slightly. I then cut the pastry into squares that were about a couple of inches wide. I must admit, some were more like rectangles, but I wasn't going for perfection.
Next, I filled each square with the scrambled egg mixture. I topped each off with a pinch of cheese and then folded the corners in. In this step, I learned that it helps to pinch the ends of each corner together tightly. During the baking process they can separate as the pastry puffs up.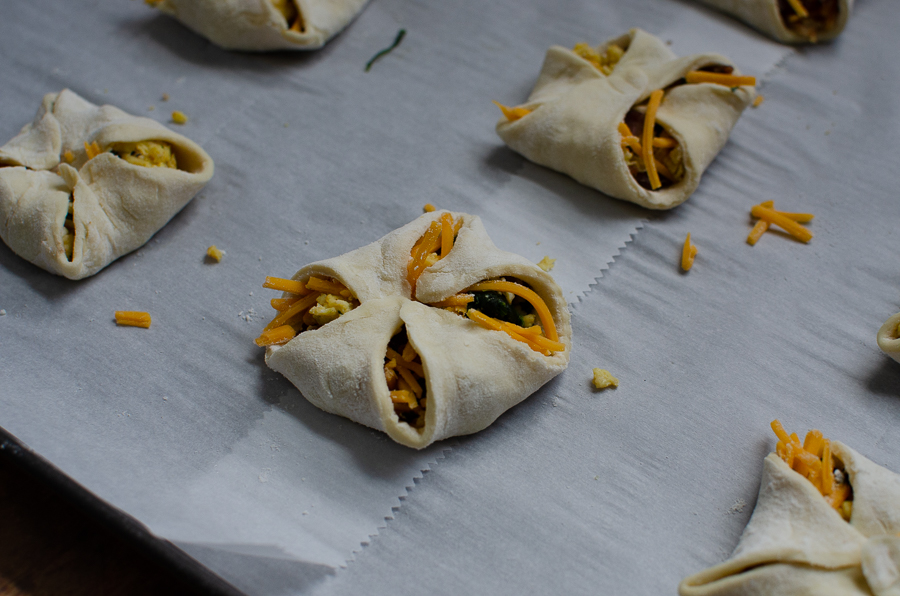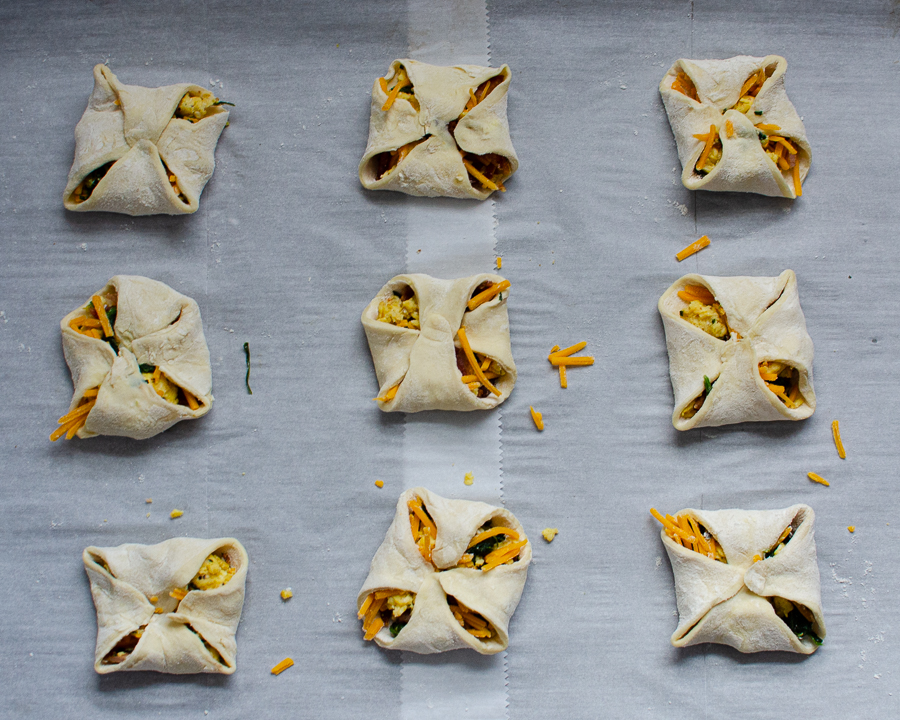 Egg Wash and Bake
After all of the hand pies were assembled, I gently brushed each with the egg wash. This helped the puff pastry to get a beautiful golden-brown color as they baked. I also lightly seasoned the tops with salt and pepper.
Lastly, I baked the hand pies in a 400 degree oven for about 15 minutes. Because the eggs in the filling are already cooked, the puff pastry just needed to cook thoroughly and the filling to rewarm.
All in All
All in all, this recipe is going to be a keeper in my household. These breakfast hand pies were easy to assemble and even easier to eat. It was fun watching Freddie carry his breakfast hand pie around the house, snacking happily as I answered work emails! I think this will be a good recipe post-quarantine too. I can see myself meal prepping this on a Sunday for an easy, on-the-go breakfast option on weekday mornings.
Kitchen Products You May Need: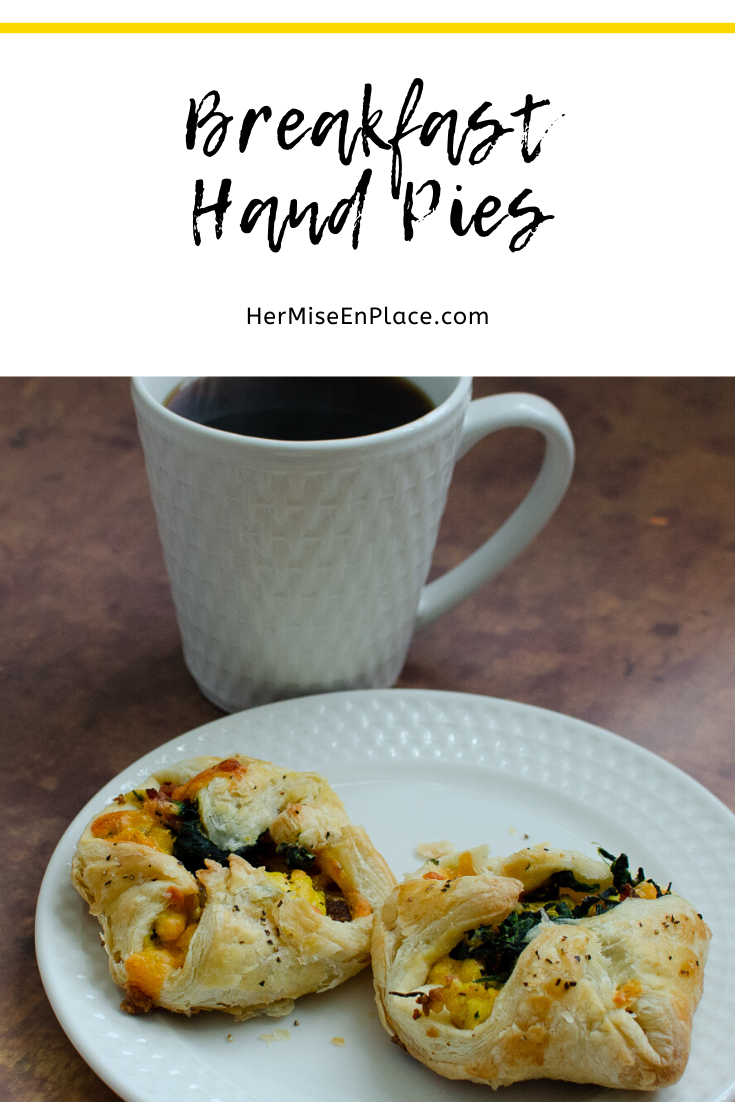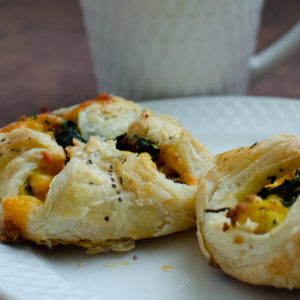 Breakfast Hand Pies
These breakfast hand pies were easy to assemble and even easier to eat. This is a great recipe that can be prepped on a Sunday evening for an easy, on-the-go breakfast option on weekday mornings.
Ingredients
1

Sheet

Frozen Puff Pastry

Thawed

5

Eggs

With one egg, separate the yolk and egg white

1/4

Teaspoon

smoked paprika

1/4

Teaspoon

garlic powder

1/4

Teaspoon

onion powder

1/2

Cup

Frozen, Chopped Spinach

Thawed, Drained

1/2

Cup

Shredded Sharp Cheddar

4

Strips

bacon

Cooked and Crumbled
Instructions
Remove puff pastry from freezer. While puff pastry thaws, cook your bacon and crumble.

In a bowl, whisk together 4 eggs and one egg white with the paprika, onion powder, garlic powder. Lightly season with salt and pepper. In a large non-stick skillet, scramble the eggs to your preference.

Once eggs are cooked, remove from heat and gently fold in thawed spinach and crumbled bacon. Set aside.

Prep your puff pastry by rolling out slightly with a rolling pin. You'll want to roll it out at least a half inch on each side. Cut the puff pastry into 9 squares. Fill each square with scramble egg mixture and top with a pinch of cheese.

For each square, fold the corners to the middle until they touch. Pinch the corners together to seal the pocket.

Whisk together the egg yolk with a splash of water. Brush each hand pie with the egg wash. Season lightly with salt and pepper. Bake in a 400 degree oven for 12-15 minutes until golden brown and flaky.