Banana & Oatmeal Frozen Dog Treats
This post is honor of my oldest and furriest baby, Otis. He loves these healthy and fun frozen dog treats.
Our best guess is that Otis is 14 years old now. We adopted Otis when we were in graduate school and living in West Virginia. He is full of that classic beagle personality- cheerful, "talkative", determined and inquisitive. I think everyone in our lives has an "Otis" story!
This is an oldie, but goodie recipe in our household that is perfect for summer. We used to buy Otis Frosty Paws, but one summer I decided to make him some homemade treats using overripe bananas. The rest of the ingredients were pantry items including oatmeal and peanut butter.
These treats take only 10 minutes to prep. I use a silicone muffin pan that I bought for $1 at the dollar store. These silicone pans are great for frozen recipes like this one. The treats easily remove from the molds and the pan is simple to clean. This recipe made 6 total frozen dog treats.
Mise En Place
Rolled Oats
Over Ripe Bananas
Peanut Butter
Water
Optional- Dog treats for garnish
How to Make Frozen Dog Treats
Place the rolled oats, peeled bananas, peanut butter and water in a blender or food processor. Blend the ingredients until well incorporated. The mixture should be similar in consistency to cooked oatmeal. If desired, you can pulse in additional water, a few tablespoons at a time, to loosen it.
Once mixed, pour the ingredients into your muffin tins and top each with a dog treat. Transfer muffin pan to a freezer for at least 3 hours or until frozen solid.
All in All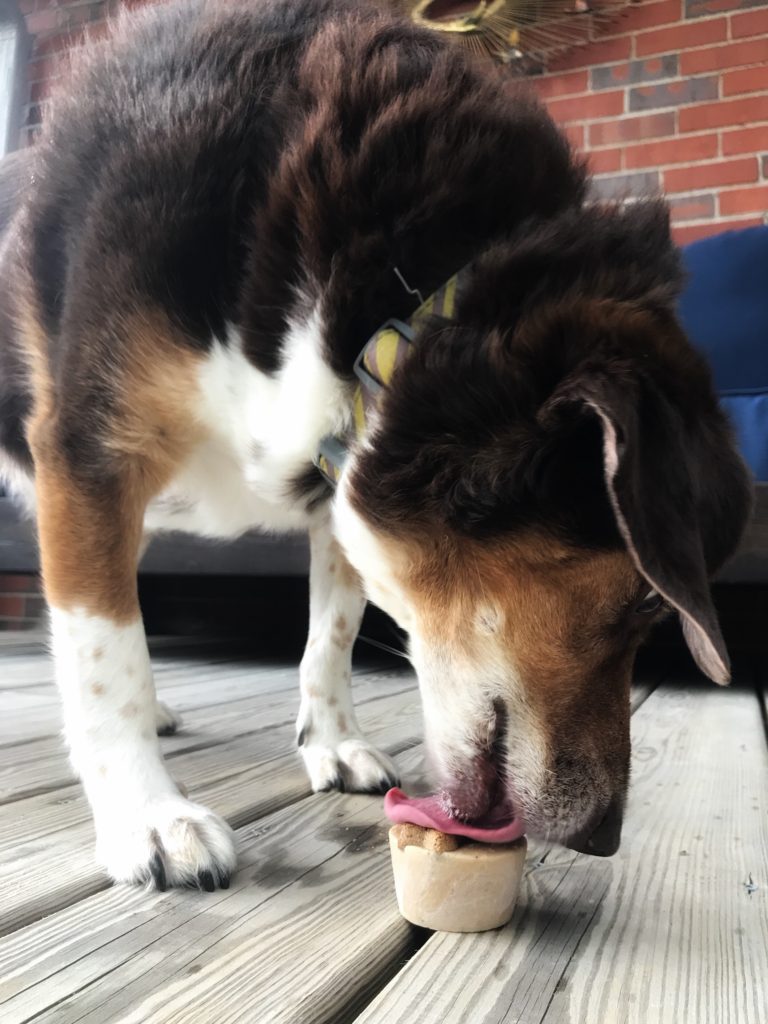 Otis loves these treats just as much as the store bought ones! I hope your furry friend enjoys them too.
What are your favorite ways to keep your pets cool in the summer?
Banana & Oatmeal Frozen Dog Treats
Ingredients
3

Bananas

overripe, peeled

1/3

Cup

Plain Rolled Oats

3

Tablespoons

Peanut Butter

2/3

Cup

water

6

Dog Treats

for garnish
Instructions
In a blender or food processor, mix together bananas, oats, peanut butter, and water.

Spoon mixture evenly into the muffin cups and top with a dog treat.

Place in freezer until frozen. At least 3 hours.